News
Bavarian Nordic inks new Ebola contract
---
This article is more than 8 years old.
Deal could end up generating income of up to 220 million kroner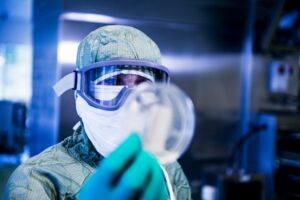 The Danish biotech company Bavarian Nordic has signed a contract with its Dutch counterpart Crucell Holland BV to produce a vaccine against Ebola.
Crucell Holland BV is a subsidiary of Belgian-based Janssen Pharmaceutical Companies, which in turn is a subsidiary of Johnson & Johnson.
The contract, worth an estimated 60 million kroner, involves the development and production of a prime-boost vaccine against Ebola consisting of Bavarian Nordic's MVA-BN® Filo and Janssen's Ad26.ZEBOV.
"We are very pleased to strengthen our collaboration with Janssen on the accelerated development of the prime-boost Ebola vaccine regimen," said Paul Chaplin, the president and CEO of Bavarian Nordic.
"More importantly, it is encouraging that the US government – through BARDA, with whom we have worked for over a decade – recognises the potential of this vaccine to build international preparedness for current and future Ebola outbreaks."
READ MORE: Bavarian Nordic storms ahead with half-year results
Promising trials
The contract will initially span five years, but it includes options for further deals that could be worth about 160 million kroner.
As part of an accelerated development program, Janssen has already launched a series of clinical tests of the prime-boost vaccine in Europe and Africa.
Bavarian Nordic has not altered its financial expectations for the year as most of the income generated by the deal won't be realised until 2016 and 2017.