News
Norwegian opening direct flight from Jutland to the US
---
This article is more than 8 years old.
New Boeing 737-Max planes making it viable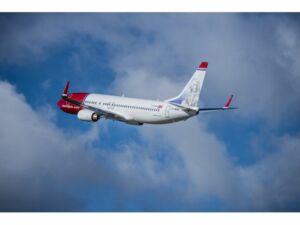 Travellers looking to get from Jutland to the US will be able to avoid having to go through Copenhagen first in the future.
Norwegian Airline revealed today that it intends to open a new route from Aalborg to New York starting in 2017.
"It's difficult to over exaggerate what this means to us as an airport, both for business in the region and for holiday traffic," Søren Svendsen, the head of Aalborg Airport, told Berlingske newspaper.
"We do have charter flights to distant destinations, but this will be the first long-range route for us and the first from Jutland to the US."
READ MORE: Norwegian overtakes SAS as Scandinavia's most used airline
Max viability
Norwegian ordered 220 new airplanes back in 2012, and the arrival of these new planes will allow Norwegian to offer the Aalborg flight.
The new planes are a modern edition of the classic Boeing 737 – the Boeing 737-Max – which is able to fly almost 7,000 kilometres. They are smaller than the large Dreamliner aircraft and makes it viable for Norwegian to use them on routes from smaller cities like Aalborg.
"They are cities we could never hope to fill a wide body plane, but we can easily fill a narrow body like the Max and still fly direct," said Bjørn Kjos, the head of Norwegian.
In related news, Norwegian is also considering opening new routes from Copenhagen towards the east, including countries such as Pakistan and India.