News
Thousands tipping off the police via touchscreen app
---
This article is more than 8 years old.
A year after being launched, 170,000 in Denmark have police app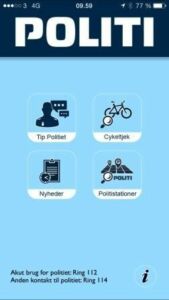 A year after its launch, an app developed by the national police force Rigspolitiet has been downloaded 170,000 times and is becoming a popular way for citizens to contact law enforcement. Rigspolitiet is working on adding functions to the app and is planning a relaunch in November.
As well as providing access to general information and press releases from the police, the app currently allows users to send a tip-off, which is then routed via the dispatch centre in the usual way, and to check a bicycle frame number on the bicycle register to find out if it has been reported stolen.
Every day, an average of 40 tip-offs are sent in this way and 400-500 bicycle searches are made.
Meeting citizens
Jørn Kjer, a police inspector at Rigspolitiet, explained that the development of the app represents an attempt to meet citizens on the platforms they use most.
"The app has enabled up to ensure the police are always at hand. We are very satisfied with that," he said.
He said the 170,000 downloads was a good reception for the app's first year.
"We are very happy with that number," he said. "But we also think that it can be even higher as we will continue to improve the app."
Kjer emphasised though that it is important to understand what the app can and can't do.
"At the same time we can also see that there are users who are dissatisfied that they don't hear more from the police when they send us a tip-off," he said.
"It's important to understand that a tip-off isn't a report. It shouldn't be used for urgent notifications either. So we should be better at explaining to people what they can expect when they tip us off about something."