General
TV this week: Lady Gaga and Lord of the Mojo
---
This article is more than 8 years old.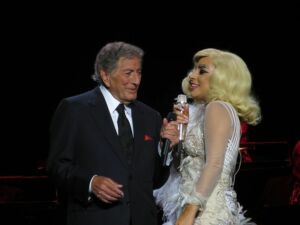 Tony Bennett and Lady Gaga: Cheek to Cheek LIVE!
SVT2, Sat 20:00 or Sun 15:00
They're back again. But this time on TV, so if you missed Tony Bennett and Lady Gaga in action in July at Tivoli or you want to relive the memories, enjoy it in the comfort of your home.
This live concert, which features a 39-piece orchestra, was nominated for the Emmys this past weekend. And while they didn't win, few will deny they won over all who turned up.
The chemistry they have is contagious. Still only 88 years young, Bennett does not disappoint – his Sinatra classics will make you shiver on the couch!
And this is a Lady Gaga like you've never seen her. No extravagant outfits to show off, just amazing singing that will leaves you jaw on the floor – especially with 'Lush Life'.
With songs like 'Nature Boy', 'Anything Goes' and 'I can't give you anything but love' to enjoy, you definitely won't regret it.
Also New

Twenty-four years ago, Britain fell in love with the Larkins. Find out what all the fuss was about by watching The Darling Buds of May, perfick family viewing that launched the career of Catherine Zeta Jones.
She swapped the Valleys for Michael Douglas, and even The Forecaster (SVT1, 23:50) – a financial guru who used Pi to predict the exact dates of stock market crashes – would have had a hard job predicting that one.
But the odds shortened after Darling Buds: from five to two degrees of separation. US doc Six Degrees of Separation (SVT1, Mon 23:10) speculates on what some call the quantum theory of human relationships.
Elsewhere, follow the titanium triathlon twins (one of whom has cerebral palsy) in Danish doc Team Tvlling: Danmarks sejeste jernmænd (TV2, Thu 20:00); please say you won't be won over by The Dark Charisma of Adolf Hitler: Leading millions into the Abyss (DRK, Mon 20:50 or Tue 19:05); there's another chance to see the 'last days of the Raj' drama series Indian Summers (DR2, Wed 20:00); Lorraine Pascale: How to be a better cook (SVT2, Thu 19:30) features Britain's most patronising chef since Delia; and we've got edited highlights of the Emmys (Zulu, Sun 19:45) – recorded fortunately, as the actual ceremony goes on for three days. (BH)
Coming Soon: How to get away with murder – season 2
Lead actress Viola Davis won an Emmy over the weekend, so maybe you should try this drama series ahead of the premiere of the second season at the end of the month.
Creator Shonda Rhimes' body of work speaks for itself – Grey's Anatomy, Private Practice and Scandal – so if you liked those, you'll probably love this drama, which revolves around a murder plot at a US university that a professor (Davis) and her interns are up to their necks in.
Don't miss out on a suspenseful journey that will intrigue you until the very last episode. (EN)
Sport of the week
Fewer standout games at the 2015 Rugby World Cup than last week, with England vs Wales the top pick. Watch it down The Globe! And the same is true of the Champions League, of which the pick is Malmö FF vs Real Madrid (Wed). Watch it down the road! Elsewhere, we've got Tottenham vs Man City in the EPL (K6, Sat 13:00), the Japanese GP and the NFL (3+, Sun 22:15 NFL) continues. (BH)
Film of the week
The cynics might say it's chick flick week with the rugby going on, but Denmark doesn't dig oval. Luscious Leonardo in J Edgar, zesty Zac in The Lucky One, charming Channing in Magic Mike (K4, Fri 20:00), gorgeous George in Leatherheads (DR2, Sat 17:20) and Ted, a film about a big fluffy bear … Need we say more? (BH)