General
Out & About: CIS students dyeing their hair for peace
---
This article is more than 8 years old.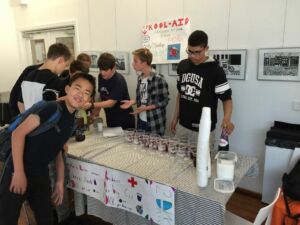 Photos: CIS
The Copenhagen International School community once again celebrated International Peace Day on September 21, this time with a variety of awareness-raising and charitable initiatives.
At CIS, it has become an opportunity for students to live out the school's mission statement of "equip[ping] students for success and global citizenship beyond school".
The children at CIS's Hellerup Campus staged a number of exciting and meaningful events based on the theme of peace.
Grade 8 students participated in bake sales, online fundraising challenges, a clothing drive, a benefit concert and even a hair-dyeing challenge.
While the high school students organised a benefit concert, a clothing drive, and a fundraising campaign for Doctors Without Borders.
In response to the ongoing refugee crisis (see left), CIS has put together a committee of administrators, faculty, students, and parents to co-ordinate an institutional response.