News
Danish artist unveils Hans Christian Andersen giant head at Tivoli Hotel
---
This article is more than 8 years old.
Bjørn Nørgaard's four-metre-high bronze sculpture is a break from top hat statues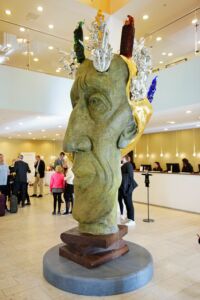 On Friday, the renowned Danish artist Bjørn Nørgaard unveiled a four-metre-high bronze sculpture of Denmark's most famous writer Hans Christian Andersen at Tivoli Hotel in Copenhagen.
Henning Arp-Hansen, the company behind Tivoli Hotel, commissioned Nørgaard to come up with a new representation of the author – a challenge the artist was eager to accept.
"Hans Christian Andersen is almost an integrated part of all Danes. In the 70s, 80s, 90s, 00s and 10s, I myself have made art pieces in which he is included. But there are enough sculptures where he's standing with a hat and a book in his hand," Nørgaard said.
"Now Hans Christian Andersen was himself obsessively fixated on his own head when he was photographed, and figuratively we have an idea that all of his stories came from his imagination, which of course was a new concept at the time of romanticism. We all know the giant heads of the Olmec and on Easter Island, there is one of Karl Marx in Chemnitz and there are many more. And Pallas Athena was born out of Zeus's head, so this had to be a huge portrait of Hans Christian Andersen."
Tivoli Hotel invites the public to come to see the work of art at Arni Magnussons Gade 2.