News
Record numbers of Danish deer being run down on the roads
---
This article is more than 8 years old.
Roadkill numbers have more than doubled since 2012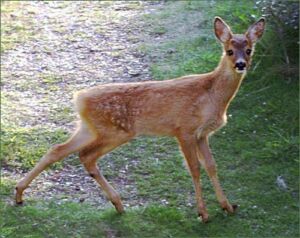 Given that the autumn months tend to be high season for collisions between deer and motorists, and that 2015 is expected to see a record figure, motorists have been warned by an animal protection agency to be more vigilant than ever.
The 1812 emergency call centres have received 6,091 calls about car/animal collisions in the first nine months of this year – more than double the rate of 2012.
Deer are most active in the autumn and winter months and typically in the early morning and evenings when there are the most vehicles on the roads.
"The majority of accidents happen in the morning and at twilight, so people must be extra careful when driving near a forest," Michael Carlsen from animal protection agency Dyrenes Beskyttelse told DR Nyheder.
Call on the spot
Carlsen said that if a motorist strikes a deer and it is still alive, it is important to call 1812 from the place of the accident and not wait until you get home.
"Calling from the accident site makes it easy for animal control or Falck to find the animal," he said.
The vast majority of 1812 calls come in from Jutland: some 57 percent. Motorists in Zealand account for 36 percent and six percent of the calls come in from Funen.
Good advice
Dyrenes Beskyttelse offers five tips for reducing accidents with deer:
1. The risk of collision is highest at sunrise and sunset.
2. Observe speed limits and reduce your speed even more when driving near forests
3. After dark, look out for the reflection of your headlights in the deer's eyes
4. Take extra care in October and November when the deer are on heat, and in May and June when they have offspring.
5. Avoid turning sharply to dodge the animal. Instead, brake hard and keep a firm grip on the steering wheel.