General
TV this week: Final orders at the Earl of Grantham's residence
---
This article is more than 8 years old.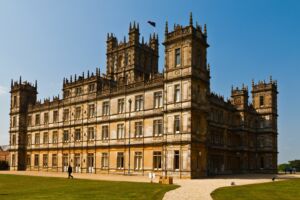 Downton abbey – season 6
DR1, Sat 20:00; SVT1, sat 21:30
The sixth season of Downton Abbey is the British period drama's last, which isn't a surprise as Maggie Smith's character, the Dowager Countess of Grantham, is now 128 years old.
Still, unlikely character ageing never stopped the likes of Upstairs Downstairs or even 24 from churning more episodes out, and the decision will surprise many given its popularity and how the mid-1920s is such a TV-friendly era (Charleston, Nazis, talkies, Wall Street Crash).
For many, though, it will be a relief. Creator Julian Fellowes was showing signs of fatigue as early as the second season. And no doubt some of the younger cast are happy they can start knocking on the door of Hollywood without the fear they'll be lynched at a pony club gymkhana near Windsor.
Just eight episodes long, there will be weddings, funerals and foppish hair. No Hugh Grant granted, but they have got Mathew Goode.
Also new
There's no discernible reason why DRK is dedicating a weekend to Charlie Chaplin, but who needs an excuse? On Saturday alone, there's a chance to watch City Lights (11:15), The Great Dictator (14:40) and Modern Times (23:15), as well as other films, docs and the biopic.
Switching to what the Brits like to call feature-length dramas, we have this year's The C Word (TV2, Sun 21:00), a future award-winner about a magazine editor (Sheridan Smith) who writes a blog about her experience with terminal cancer.
It's a perfect fit for how most of us feel at the end of the weekend, so stock up on the hankies!
Elsewhere, we've got oodles of docs: Ebola: Death in the Village (DR2, Wed 23:00) follows five interconnected Liberians fighting the disease; the protagonist in The boy who wants his leg cut off (DR3, Mon 20:30) has neurofibromatosis and has asked Santa for an amputation; Miracle Rising: South Africa (DRK, Sun 21:00) is an ultimately uplifting account of the country's history culminating in the 1994 elections that carried Nelson Mandela to power; and Language Matters (DRK, Wed 22:30) details the worldwide decline of mother tongues no longer spoken by, well, mothers.

Coming up Soon: Grandfathered 
Fox is bringing the charming John Stamos (ER, Full House) back to our screens.
Once again playing the hot stud, Stamos is a 50-year-old bachelor who owns a hip restaurant, likes to date young, foxy ladies and hates the idea of having a family.
But his life changes when his grown-up son, who he didn't know existed, turns up with a young daughter. Suddenly he's both a dad and a grandfather.
With 62 on Metacritic this light sitcom provides laughs and nostalgia as we all get to remember the Stamos we all knew (and missed?) from Full House. (EN)
Sport of the week
The Champions League comes alive this week with Arsenal vs Bayern Munich followed by PSG vs Real Madrid (3+, Wed 20:00). Staying in England, Jurgen Klopp makes his EPL bow at Tottenham and then takes on Rubin Kazan in the Europa League (K6, Thu 21:00). Elsewhere, we've got the Rugby World Cup, NFL (3+, Sun 22:15) and NHL action (TV3 Sport 2, Sat-Tue 01:05).
Film of the Week
When authors and filmmakers start imitating drivel like Twilight, you know we're in trouble. The Mortal Instruments: City of Bones is one such yarn. Avoid it and close down the franchise! A bad week for adult films (no, not porn!) the teeny market should know better than to champion Spring Breakers and Pitch Perfect, but they've both been successful.