News
Collection of vintage cars uncovered in Danish barn
---
This article is more than 8 years old.
Owner had intended to open a museum of vehicles from the 1920s to 1950s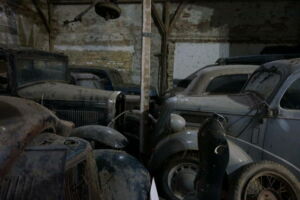 A rare collection of 26 vintage cars dating from the 1920s to the early 1950s has been discovered in a barn in southern Zealand following their owner's death.
The vehicles had belonged to a private collector who had acquired them over a period of 25 years with the intention of opening a car museum, but it never became a reality.
Will attract enthusiasts
The cars gathered dust for more than 30 years before seeing the light of day. Now the auction house Campen Auktioner in Randers in central Jutland has been entrusted to find new homes for the collection.
The company has experience  selling vintage cars and is confident it will catch the attention of enthusiasts.
"The sight of the old, spiderweb-entangled, abandoned vehicles often engenders the caring instinct in buyers who have restoration ambitions, are a bit handy, have a full wallet, have space in their heart and a little extra space in their garage," it said.
The collection includes several Ford Model As and Model Ts including a rare special edition Model T.
There is also a rare Renault Celtaquatre from 1934, of which only 44,000 were built.
The cars will be auctioned on 3 November. See the auction catalogue here.
The auction house documented the uncovering of the fleet in the clip below: