News
Danish-Swedish agreement over new Øresund co-op
---
This article is more than 8 years old.
Greater Copenhagen & Skåne Committee to be established at the start of the new year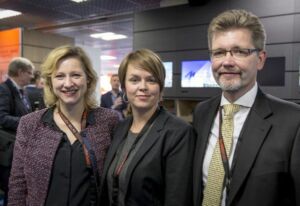 Denmark and Sweden have agreed the Øresund Committee will be transformed into a new co-operation dubbed the Greater Copenhagen & Skåne Committee (GCSC) as of 1 January 2016.
The decision was made at a meeting in Copenhagen on Monday, and the vast majority of the municipalities in Scania agreed to the decision, although Malmö and Lund are still considering.
"There was a good atmosphere and the executive committee decided to unveil a proposal that the Øresund Committee should be changed into the Greater Copenhagen & Skåne Committee," Katrin Stjernfeldt Jammeh, the mayor of Malmö, told News Øresund.
Some 26 out of the 33 municipalities in Scania have agreed to the proposal, but the two key municipalities of Malmö and Lund have yet to decide whether to join the GCSC or establish a partnership with the new organisation instead.
"But from Malmö and Lund's side, we will work hard to ensure that the co-operation will be a success," said Jammeh.
READ MORE: Copenhagen drops 'Øresund' branding
Regional power
The goal of the GCSC is to jointly promote 'Greater Copenhagen' and work towards a strong international infrastructure, attract more investors, tourism and talent, and promote an integrated and sustainable growth region.
The GCSC consists of three central areas: the Capital – the Capital Region plus 29 municipalities; Zealand – Zealand Region plus 17 municipalities; and Scania – Scania Region plus 33 municipalities.
Earlier this month, the city of Copenhagen revealed it was dropping out of the Øresund Committee to instead support the Capital Region's 'Greater Copenhagen' efforts to market itself on the world stage.