General
A cock and bull story fitting of one's favourite brothers
---
This article is more than 8 years old.
Schooled at Noma, the owners of BROR know the score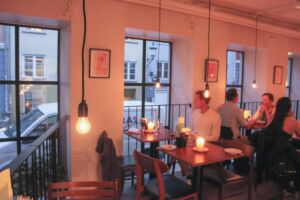 Restaurant BROR, like its name suggests, is part of a distinguished family. Two former Noma sous chefs hold the reins and the last Michelin Guide awarded it a Bib Gourmand – an honour given to just nine other eateries in Copenhagen that recognises those who serve good food for affordable prices.
We visited on a quiet Thursday night. A cosy two-storey establishment in the heart of Copenhagen, we felt immediately welcome by its lovely waiters, warm colours and unshowy attitude.
Oh my testicles!
We opted for the 'Stor BROR menu' with wine pairings consisting solely of natural selections. The restaurant wants to educate people about natural wines and make them taste the real flavours – which is kind of heaven for wine lovers and fans of ecological food. Additionally, everything on the menu is local and seasonal.
We started proceedings with a selection of appetisers and a deep-fried surprise. A plate of fried testicles paired with some 'dick chips' – yes, it is thinly sliced fried cow's penis – were served to my plus one, while I enjoyed the vegetarian version: mouthwatering crispy bread with homemade cheese.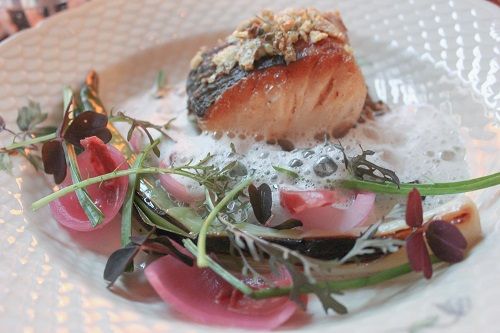 Victor, one of the aforementioned co-owners of BROR, was eager to know if we enjoyed the starter, approaching us with a friendly smile and a question not often heard outside a movie set: "How is it going with the dick?"
Laid-back fine dining
Victor met Sam, the other co-founder, while they were sous chefs at Noma for four years. Afterwards they decided to open a restaurant together, but were certain they would do everything their own way.
"We didn't want to have any big money-man behind us telling us what to do, so we saved up a lot and started completely from scratch," explained Victor.
Looking around, that's probably why all the furniture is second-hand and the cutlery a wild mix, creating an incredible fusion of high-end cuisine in a relaxed and laid-back atmosphere.
Codfather's promise
Our second course was a whole cooked cod's head served with rye bread and horseradish. After getting over our initial shock and obligatory Godfather reference, we were promised we could eat everything besides the bones, and the cheeks were duly delicious. This adventure was then followed by some more cod, this time a cured version served with baby corn, which was simple but amazing.
Next up was my favourite dish of the evening: a taste explosion that left my stomach screaming for more. While I delighted in my fried squid served with crispy broccoli, chanterelles and seeds, the same dish was delivered to my meat-eating partner-in-crime, but with veal tongue. We were blown away.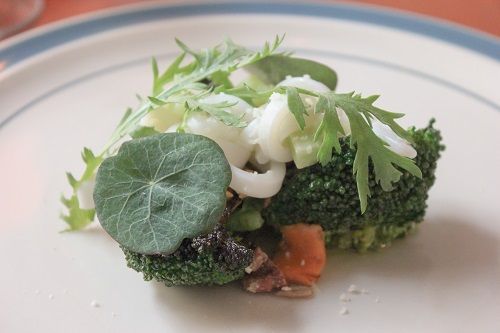 A stunning climax
One thing I learned that night: one has to take dessert seriously. We were treated to two desserts that took us to the sky and back. The plum compote with caramelised butter and rosemary, followed by a raspberry sorbet served on shortbread with berries and cream, combined with a delicious dessert wine, provided the perfect climax to what had been such a tasteful evening.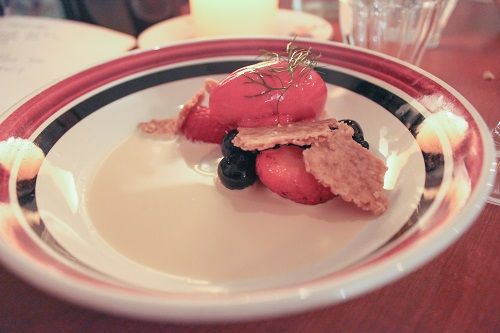 We left with three simple lessons learnt: desserts are important, be prepared to eat whatever arrives on your plate, and as annoying as brothers can be, we're wiser for their guidance!