News
Politician accuses Denmark of violating rights of Greenlandic citizens
---
This article is more than 8 years old.
Aleqa Hammond from the Siumut party has criticised Denmark for not doing enough to support Greenlandic people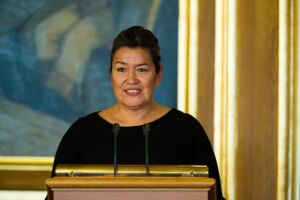 Almost half of the Greenlanders living in Denmark feel stigmatised, a new survey carried out by the National Centre for Social Research on behalf of the Danish Institute of Human Rights shows.
Aleqa Hammond, a Greenlandic politician from the Siumut party who is the former prime minister, called the situation "disgraceful" and said the results proved a lack of tolerance in Danish society.
Met with prejudice
According to Hammond, Denmark doesn't do enough to ensure Greenlandic language and culture are accepted within the Danish commonwealth.
Four out of ten Greenlanders stated they had been met with prejudice and only 36 percent have been able to find employment in Denmark.
According to the Berlingske magazine Politiko, Hammond finds it incomprehensible that refugees who come to Denmark are allowed to take part in integration programs, get access to Danish language courses and housing, while Greenlanders don't get similar offers, although the need is there.