General
A reflection of its surroundings, it's big, bold and beautiful
---
This article is more than 8 years old.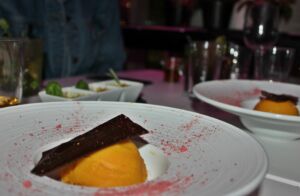 Finding Garum was like discovering a gem in a haystack. In the busiest part of the city, just across from Town Hall Square, you will find a two-storey building dramatically encircled by a mirrored-window facade that captures an audacious snapshot of the beating heart of Copenhagen.
But if you think the location is going to be the major highlight visiting this Italian restaurant, prepare to be completely mistaken, as the dining experience will take your breath away!
The next big thing
Garum opened its doors about five months ago at a picture postcard location that gives its visitors the opportunity to dine with an equally distinctive view. It is one of Copenhagen's biggest restaurants and has capacity to cater for about 250 people at the same time. No matter if you are a vegetarian or a meat lover, the options are broad on their classic Scandinavian-Italian menu.
Since opening they have been playing around with designer furniture and industrial elements within their interior space, and the result is pleasing to the eye. Bright yet classy lighting, (with candles for dining in the evenings) accentuates seating areas surrounded by planted herbs, spices and vegetables that mix perfectly with the design and organic ingredient ethos.
Nordic-Italian fusion
Upon our arrival, we were offered a refreshing prosecco, after which we opted to try one of the wines from their extensive menu, the Tomassi Romeo Vino Rosso – a Northern Italian red with an after-taste of vanilla. And it went on to complement our meal well.
As our starters we chose some melt-in-the-mouth scallops and the carpaccio. And while the scallops were delicious, it was the carpaccio that stole the first round's plaudits. Served with a handful of rucola, 24-year-old shredded parmesan cheese and homemade truffle-paste on top. The carpaccio set high expectations for the rest of our dining experience.
For our main courses, my dining partner elected to try their thin and crispy-based pizza, the 'Hotter than Hell', a spicy combination of fresh red chillis, chervil and Italian chilli salami.
For myself, I tried their carbonara with a twist, the 'Pumpkin Carbonara'. It had a tad of sweetness mixed with the classic creamy sauce, parmesan cheese and crispy bacon bits. Days later, I am still dreaming about this dish.
And for the finishing touch, we had 'Gelato de Mango' for dessert. Made from fresh mango, skyr cream and homemade chocolate-flake, the gelato was refreshing and cleansing – a great end to a perfect meal.
Reasonably priced
Who says that you have to leave a hole in your pocket when you dine at a fancy place with a great view and delicious food where the attention to detail, both in flavours and garnish, are second to none? Garum offers reasonably priced food and drinks that any type of customer would sincerely appreciate.
For somebody who adores authentic Italian cuisine, I have no doubt I will be returning to this precious gem-like restaurant.
Although, in all honesty, I will have to wait until my mouth has got up off the floor.