General
Mid-November Performance: Worth coming together for – right now
---
This article is more than 8 years old.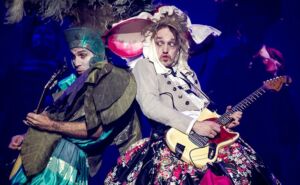 Come Together  
starts Nov 12, Wed-Sun; Tivoli Konsertsalen, Tivoli; 195-675kr; cometogethertivoli.dk
Everyone knows The Beatles – so who wouldn't want to see their music performed live with a full cast of musicians and dancers in Tivoli (the sequel sucked though). Twist and shout with a little help from your friends.
READ MORE: Hey Jude, refrain, don't revisit the Beatles ever again!
Airport
Nov 12-28; Republique, Østerfælled Torv 37, Cph Ø; 95-195kr; republique.billetten.dk
Kristján Ingimarsson asks why we all behave as we do at airports – gates to journeys and excitement, but incredibly regulated. His answer is characteristically bizarre, humorous and intensely physical.
Loona Nights
Nov 13; Dansehallerne, Pasteursvej 20, Cph V; 55-free entry; dansehallerne.dk
The raw, the broad and the experimental feature heavily at Dansehallerne's all-comers night. An open stage for short pieces and audience feedback, Loona Nights could spawn the next performance sensation!