News
When a Dane's struggling to control his turf, he rents a cow to cut his grass!
---
This article is more than 8 years old.
A new concept offers cattle to graze in natural areas before they head to the slaughterhouse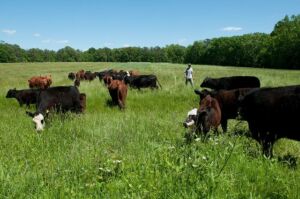 Rent A Cow, a company based in Skælskør in western Zealand, rents out grazing cattle to municipalities, businesses and estates and then eventually sells the meat to private concerns.
Rent A Cow currently keeps cows in Greve Strand, northern Zealand and, for the first time, on the island of Orø . The cattle in Orø were headed for slaughter last Sunday.
"They have had a wonderful life on Orø since May," Jonas Henriksen from Rent A Cow told DR Nyheder.
Holbaek Municipality owns the Tornholm area near Orø that is leased by Rent A Cow.
Ecologically sound
Henriksen said that cattle on Orø helped keep weeds trimmed down, allowing for more birds and wildlife to populate the area.
Mogens Nielsen, the head of Orø Kogræsserlaug, the local cattle management group, said that the cattle keeping the grass down have helped the area's original flora to return and kept the cows healthy.
"We inspect the animals and make sure they are well, that there is power to the fence and that there is water to drink," said Nielsen.
After maturing for 14 days, the meat will be driven out to customers who ordered it from the Orø livestock.
"It is the best meat in the world," said Nielsen.