News
Danes crowdfunding their way to world's most compact solar charger
---
This article is more than 8 years old.
HeLi-on has already attracted over 625,000 kroner in support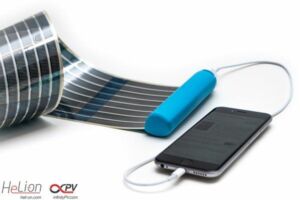 The Danish company infinityPV has developed the most compact solar charger in the world and is trying to crowdfund its way to funding on Kickstarter.
The charger, named HeLi-on, can roll up its solar cells in a little holster that can fit in a pocket and be used to charge a phone or device anywhere.
"The HeLi-on charger combines three key components into a single product: a large energy-collecting solar panel, an energy storage battery bank and efficient electronics," infinityPV wrote on its Kickstarter page.
"All the features are combined in a slick and light design for convenience. HeLi-on will let you charge your smartphone in 2-3 hours [it takes longer in cloudy weather], whenever and wherever you need."
READ MORE: Dane crowdfunding his way to an icy success
Early success
And it seems the HeLi-on is already an early success. With 42 days still to go in its kickstarter campaign (here in English), the charger has already attracted over 625,000 kroner in backing – well above the required 500,000 kroner.
The solar panel that comes with HeLi-on is about 1 metre in length and the holster it rolls up into is about 11.3 cm long, about 3 cm wide and only weighs about 105 grams.
Should the product be developed on schedule, the first chargers will ship out sometime in July next year.