General
The Gaelic girls with the gift of the gab
---
This article is more than 8 years old.
Danish schools pit their wits against a team of Irish champions in the English Speaking Union debating cup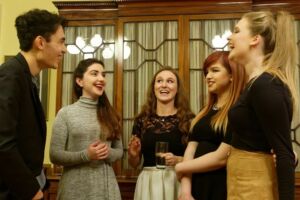 In motion they were set – on their way to Denmark. A team of champion Irish sharp-talkers – here to give our boys and girls a good talking to!
As guests of the English Speaking Union and Irish ambassador Cliona Manahan, this crack team of silky Gaelic brogues took no prisoners as they proposed and opposed speakers from Virum Gymnasium and Næstved Gymnasium, the cream of Danish debating, in a showdown last Friday.
But first the Danes received some vital last-minute training from Michael Hepburn and Nathalie Burles, flown in from the UK courtesy of event sponsor British Airways (while Concern, a NGO, flew in the Irish team), as they battled it out in the preliminaries.
Among the other schools in action were Sct Annæ Gymnasium, Herlufsholm Gymnasium, Køge Gymnasium and Sorø Akademi.
Watching proudly on, ESU chair Claire Clausen had to admit that the Irish team were "naturally brilliant", but commended her charges for getting "fired up and keen to take part".
Each year the ESU sees a significant increase in the number of schools who want to train their students to debate formally in English.
"We at the embassy are thrilled to welcome the team to Denmark (they are used to the rainy weather) and the ESU members," said Manahan at a reception afterwards.
"The most important thing, in these times of appalling terror in our European capitals is to be able to communicate, to talk together, to share ideas, to discuss face-to-face, and to listen to where the opposition is coming from. Learning to debate is a great way to do this, and the earlier we teach our children to do this, the better."