Business & Education
Mærsk Mc-Kinney Møller: More than a businessman
---
This article is more than 8 years old.
He will always be remembered for his philanthropy and work ethic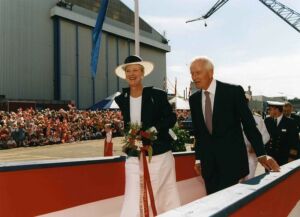 Depending on whom you ask, Mærsk Mc-Kinney Møller, who died in April 2012 at the age of 98, was a beacon, an icon, a great philanthropist or maybe just a hard-nosed, money-obsessed tycoon that wanted things done one way: his way.
Last of the magnates
There is no question that he was one of the world's greatest oil and shipping magnates and perhaps the most famous businessman in Danish history.
The Maersk fleet of container ships, tankers, rigs, car carriers, and other vessels is the largest company-owned fleet in the world. Those that knew "Mr. Møller", as he was called around the world, would say that the size was not as important to Møller as its quality. He demanded that his company be the best.
Son of the founder
Mærsk Mc-Kinney Møller was the son of Arnold Peter Møller, the founder of the AP Moller-Maersk Group. His mother was an American, Chastine Estelle Roberta McKinney.
Born in Copenhagen in 1913, Møller was greatly influenced by both of his parents. He learned the shipping business on his father's knee and has been quoted as saying that when they would have one of their frequent disagreements, he would eventually defer to his father out of respect. He was said to have often made decisions by asking himself "What would my father have done?"
Møller was also deeply attached to his mother and she instilled in him a great love of culture and art.
Learning on the job
Møller was educated at the Øregård Gymnasium in Copenhagen. He did not attend college. Instead, he joined his father's company in 1931 and travelled the world learning the shipping business.
When Germany invaded Denmark in 1940, AP Møller arranged passage for his son and daughter-in-law – Møller had married his high-school sweetheart Emma Neergaard Rasmussen – to the United States.
Mærsk Møller ran the family shipping business from New York throughout the war years. He returned to Copenhagen in
1947.
Striking an oil deal
In 1962, AP Moller-Maersk was granted a concession to survey and exploit oil and natural gas resources in the Danish sector of the North Sea. The original 40-year agreement was renewed amid controversy in 2003. Taxes paid to the states as part of the deal are not influenced by fluctuating oil prices, allowing the company to make huge profits when oil prices are high. The Danish oil foray led to further production and exploration around the world.
Møller was involved in other businesses besides shipping and oil. He helped a childhood friend start a supermarket and that led to AP Moller-Maersk becoming the majority shareholder in Dansk Supermarked A/S, which operates Netto, Føtex and Bilka.
It was his duty
Møller ran his companies himself. Some were publicly traded, but the majority were controlled by three charitable foundations of which Møller was the chairman. He was also the chairman of the main operating company, AP Moller-Maersk, from the death of his father in June 1965 until he stepped down in December 2003.
Even after stepping down, he would show up for lunch at his Copenhagen office nearly every day and always made himself available to any employee needing his advice. He insisted on punctuality and did not like it when people wasted his time. Some found his hands-on, obsessive, attention-to-detail style overbearing, but Møller felt it was his duty.
A huge benefactor
Møller gave huge sums of money to the Møller Foundation, a charitable trust founded by his father. The harbour-side garden, Amaliehaven, near Maersk's office in Copenhagen, was a gift from Møller to the city. The foundation also donated money used to build the new Copenhagen Opera House. Other funds went to restoring the frigate Jylland, to Aarhus's Old Town, and to bring the largest Rembrandt exhibition in Denmark's history to the Statens Museum for Kunst. Although he stepped away from the day-to-day running of the businesses, Møller remained actively involved with the foundation.
Upon receiving news of his death, the then prime minister, Helle Thorning-Schmidt remembered Møller not so much for his successes in business, but for his contributions to Danish culture.
"Mærsk Mc-Kinney Møller has, via his great engagement in Danish culture, left his mark throughout the country," said Thorning-Schmidt. "His support helped create national landmarks like the new Opera House."
A great personality
Friends and business associates around the world remembered Møller as a personality of historic proportions.
"The news of Mr Mærsk Mc-Kinney Møller's death has touched me deeply," said Eivind Kolding, the chairman of Danske Bank, in a statement. "He will always be remembered as one of the most important personalities in the history of Danish business."
Asger Aamund, the chairman of Bavarian Nordic recalled the motto that Møller lived by.
"'No effort too great – no detail too small', that was his credo. He could see the big picture and the smallest details," Aamund told Politiken.
Excellent health
Møller's long life was attributed to his excellent health and passion for sports. He exercised religiously right up until his final years, and as late as 2006, at the age of 92, he sailed his yacht from Denmark to Scotland.
Of the many honours Møller received in his life, he was most proud of his appointment as a Knight Commander of the Danish Order of the Elephant, one of only a few civilians to ever receive the recognition.
A devoted family man, Møller married Rasmussen in 1940 and remained married to her until her death in 2005. They had three daughters: Leise Mærsk Mc-Kinney Møller (born 1941), Kirsten Mærsk Mc-Kinney Olufsen (born 1944), and Ane Mærsk Mc-Kinney Uggla (born 1948).
With an estimated fortune of 123 billion kroner, Møller was, at the time of his death, Denmark's wealthiest person.