News
Denmark's ultimate family show faces blue word storm
---
This article is more than 8 years old.
Naughty words show up in TV2 Advent calendar broadcast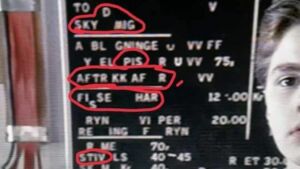 Juleønsket, this year's daily Julekalender Advent calendar programme on TV2, has proven to be a hit. TV2 may wish, however, that there had been one fewer viewer of yesterday's episode.
One ealge-eyed watcher spotted several unsavoury words, spelled out in Danish, on the menu board of the program's fictional Færgegrillen.
Words like 'shoot me', 'piss' and others a bit too risqué for a family newspaper show up on the menu board rather than, say, hot dog, cola or dessert.
Film crew wags
Suspicions are that employees of the production company Cosmo Films may have been having a bit of fun and then neglected to put the letters back.
"During a break in filming on Færgegrillen, some of the film crew amused themselves by writing various inappropriate words on the board that can be seen in the background in some shots,"  Tomas Hostrup-Larsen, a producer at Cosmo Films, told TV2 News. "We regret that this has happened."
TV2 not happy
TV2 itself is not happy with the prank.
"It's too bad that such a silly mistake made it to the screen" said TV2 fiction director Katrine Vogelsang.
TV2 did not notice the naughty words when it reviewed the film prior to broadcast.
"The background is not significant in the scenes, so it is not in focus," said Vogelsang. "I doubt many children noticed. Hopefully they were more interested in the action onscreen."
READ MORE: The holiday tradition that's best enjoyed on the sofa
One eagle-eyed viewer did indeed spot the words, and TV2 is now reviewing future episodes for any interesting language.