General
TV this week: Finders…what? You're welcome to it!
---
This article is more than 8 years old.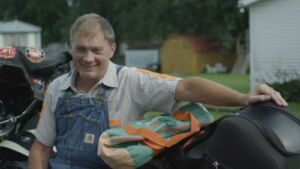 Pick of the week: Finders keepers
SVT1, MON 22:00
Purchasing at auction carries a cetain risk – the germs, the mysterious stains and the midnight hauntings (if you're really unlucky) are all cause for concern. To be fair though, most people probably haven't opened up the box to discover a mummified limb. Shannon Whisnant, however, did.
Tabloids a few years ago gleefully reported how the avid flee marketer had purchased a barbecue grill at auction only to discover someone's amputated, mummified limb inside.
Unreported by the media was the fact that the limb, which had belonged to a man named John Wood, soon became a point of enormous contention – inspiring a bizarre custody battle, a descent into addiction and, finally, a second chance at life.
With a score of 80 on Metacritic, it is definitely one to check out. (SR)
Also new:
Several channels are celebrating the 100th anniversary of the birth of Frank Sinatra on December 12 with docs, concert replays and a real festive treat from 1957: Frank & Bing: Christmas/Happy Holiday (DR2, Sat 21:55).
For a definitive portrait of the colossus, look no further than the four-hour long Sinatra: All or Nothing at all (DR2, Sat-Sun 20:00 or SVT2 Fri-Sat 21:00). Directed by the prolific Alex Gibney, this is a comprehensive study of the showman who in so many ways defined celebrity in the last century, whether it was as a pin-up, cross-medium performer or subject of furious tabloid speculation.
If the Frank Sinatra 100-year tribute concert (SVT1, Sat 21:00) isn't your thing, maybe you'd prefer an imitator like Michael Buble's Christmas (SVT1, Thu 23:15) or Ed Sheeran at Wembley (SVT1, Fri 22:00).
As a ladies man of repute, Frank would have enjoyed Channel Four's Sex Diaries (DR2, Mon-Wed 23:00), featuring the respective episodes 'Webcam Lovers', 'Gigolos' and 'Trans Lovers'.
Elsewhere, British crime miniseries Undeniable (DR1, Mon 22:30) failed to inspire much excitement; don't miss the BBC Music Awards (DR3, Thu 20:00); while British nostalgia program Now That's History (DR2, Fri 22:05) tackles 1984. (BH)
Coming soon: A Very Murray Christmas 
Bill Murray and Sofia Coppola (Lost in Translation) are reuniting for a Xmas musical available to stream on Netflix.
Murray plays a lonely musician preparing to perform live on television at Xmas, before the show is cancelled due to a storm.
Randomly celebrities start popping by and he makes them sing along with him. Miley Cyrus, Chris Rock, George Clooney and Amy Poehler all make appearances.
The score on Metacritic is not as high as you might expect (only 69!), but don't be fooled as this delirious journey will invite you to reflect on the whole purpose of Christmas. Overall, it's a real festive treat! (EN)
Sport of the week:
Go on, give Danish boxing a chance. Rudy Markussen vs Patrick Nielsen even has its own name, Ondt Blod (bad blood), which tends to denote a sense of grandeur in sport. Elsewhere, the Women's Handball WC continues (DR & TV2); Leicester vs Chelsea is the pick in the EPL; we've got the Euro 2016 draw; and there's nightly NBA action on TV2 Sport. (BH)
Film of the Week:
From Noah Baumbach, the king of mumblecore, comes Francis Ha, a touching, well observed film (82 on Metacritic) in which … not much happens, because that's the point. Ha! What a shame it's on so late! The opposite is true in expedition-gone-wrong horror Sanctum, pilot-gone-haywire drama Flight (SVT4, Sat 21:35) and rapper-gone-forever biopic Notorious. (BH)