General
Out and About: Lycelle loses herself amongst the lingerie
---
This article is more than 8 years old.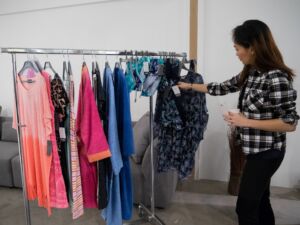 OUR WEDNESDAY morning started off in a really sexy fashion as CIFF Showrooms showcased its Spring/Summer 2016 collection of 12 exclusive lingerie and swimwear brands. A few lucky ones, including myself, got the opportunity to have the first sneak peek of the new season designs that are not available in stores yet.
These major brands presented their best pieces, including lingerie, underwear, swimwear and cover-ups with the help of some stunning models.
One of them was Seafolly (above), a leading Australian brand in swimwear that offers intricate prints and modern designs that caters to the generation of today. Lars Martinsen – who was the brand representative for Seafolly, Cosabella, and Damella – gave me a full overview of what these brands have to offer.
As I was flipping through racks looking at some gorgeous items, I found Trofé, Simone Pérèle (above top) and Lise Charmel (above). They offer timeless and classy designs of lingerie to die for.
When the event came to an end, we had the chance to chat with some models (above) and pose like one of them too. She gave us some great advice: "Wearing something sexy makes you feel sexy".
The luxury of wearing gorgeous underwear definitely works better than going to the gym.