Food & Drink
Down under, through the rabbit hole, magic is waiting to happen
---
This article is more than 8 years old.
Banksia will make you rethink your opinion on Australian cuisine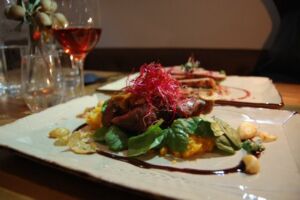 Australia was my Wonderland growing up in Uruguay. A mythical land on the other side of the world, it stirred my imagination with its concoction of beaches, crocodiles and kangaroos.
And so, when I entered the chilled-out atmosphere of Australian bar/restaurant Banksia, it felt like I was entering through the rabbit hole. On our visit, we were treated to some truly exotic dishes and transported to a sunny beach – a fantastical version of Oz I hadn't thought about since I was a child.
Long ago and faraway
It must have been around the year 2000 when I saw the Olsen twins' movie 'Our Lips Are Sealed'. After watching it, I developed a fascination with Australia and swore to everyone (I was 12!) that I was going to move there. People keep reminding me about this, even today, so believe me, it was an intense moment.
But here I am, 27 already, and I've never been (yet). And now, unexpectedly, a taste of Australian cuisine has brought back those memories and renewed my resolve to visit.
Classy not tacky
According to Banksia's owner, Australian expat Joel Cox, the restaurant is named after an Australian ower that "takes on a weird shape" when it dies. "It's an iconic Australian name – we wanted people to recognise it without it being tacky," he explained.
Given its overall decor, that should be the last of his worries. Its wooden and stone interior, dim lighting and shades of white and cream ensure a lasting impression of class that greets and stays with its customers.
Cocktail hour
The Banksia team are proud of their cocktails, so we decided to try two of the house specialties: the 'Mango Macca Daquri' and 'Fig Sour'.
The first was was tropically tasty, a combination of Asian flavours brought together with mango and a touch of Australian macadamia on a rum base with a hint of vanilla to wrap it up. Sipping its sweetness made me feel like I was reclining in a deckchair by the beach.
The Fig Sour, as the name suggests, was extremely sour and just perfect according to my dining partner, the sourpuss on my adventures, if there ever was such a character!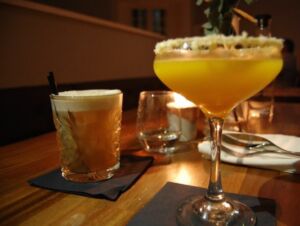 A fusion of flavours
But as tasty as the cocktails were, the fun lay ahead in the shape of the appetisers. In keeping with the philosophy of the restaurant "to bring the true taste of Australia", both the Crocodile soup and Kerala fried prawns fuse Asian and Australian flavours – essentials that "must be included", according to Cox.
The crocodile soup was colourful and spicy, not so much supplying heat, but warmth to every fibre of our being. Composed of crocodile pieces wrapped in dumplings served with peppers, cabbage and green vegetables, I must admit I would never have imagined a dish like this would taste so good, and it's definitely one I'll be seeking out when I visit Australia!
Served with delicious creamy black rice, meanwhile, the prawns in mustard seeds and curry leaves were another revelation – a dish worthy of the Mad Hatter's table.

The appetisers were accompanied by two glasses of the house rosé, an Australian wine with hints of cinnamon that was especially recommended by Russell, the manager.
Skipping with joy
For our mains I would have been as mad as a march hare not to choose the kangaroo. A succulent yet lean meat served with mashed sweet potato and Jerusalem artichoke chips, the combination was a match made in heaven.
My partner meanwhile had the 'whiskey-raspberry glazed duck', a pan-fried breast bathed in a homemade glaze served with wild rice and spinach salad. "The duck's so tender it's melting in my mouth," she exclaimed, smiling like the Cheshire Cat. But I barely noticed, as I was all eyes Skippy.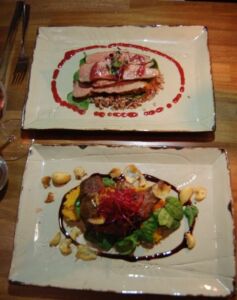 Fabulous finale
To finish, we shared two desserts: the 'peanut butter parfait', or should I say peanut butter heaven, and the 'sticky date pudding', a chocolaty dollop of loveliness served with vanilla ice cream that was also exquisite.
It was a fitting ending to a delightful evening, but this is only the beginning for Banksia. They have a great many ideas heading into next year (did someone mention a beer garden?!), so you'd better make your reservations fast if you don't want to get caught in the stampede and end up as flat as the Queen of Hearts.