News
Climate change bringing new insects to Denmark
---
This article is more than 8 years old.
Warming weather welcoming colourful creepy crawlies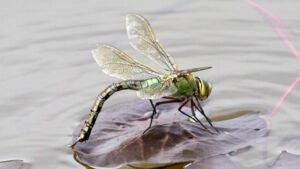 Thanks to climate change over the past 15 years, nearly 100 new species have made their way to the Danish countryside according to conservation group Danmarks Naturfredningsforening.
Exotic insects like the AC Milan beetle, blood cicada and emperor dragonfly are some of the insects that have found their way into the country.
"We have seen a migration of insects that normally live in a warmer climate," Jan Pedersen from Naturfredningsforening told DR Nyheder. "They are here because our average temperature has risen."
Out with the old
New insects are often a threat to established ones. The emperor dragonfly is called 'the chief of the ponds' because it hunts down the other dragonflies.
Pedersen estimates that for each new species, hundreds of others may have disappeared.
"Some plant and insect species can disappear virtually unnoticed over a very short period of time," he said.
Pedersen said that visitors to warmer climes often unwittingly bring interlopers home with them.
READ MORE: Asian hornets causing a scare in Europe
"In the old days, the animals would die when they encountered our freezing weather," Petersen said.
"With the milder weather, I am sure we will see more exotic insect species."