News
Danish car designer Henrik Fisker suing Aston Martin
---
This article is more than 7 years old.
Car designer says his former employer is trying to prevent him from showing his new vehicle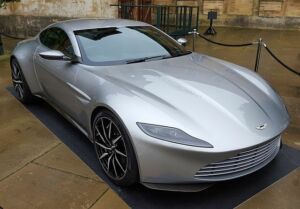 Danish auto designer Henrik Fisker, the executive chairman and co-founder of Fisker Automotive, has filed a $100 million civil extortion lawsuit against his former employer, Aston Martin.
Fisker said that Aston Martin is trying to prevent him from showing his new car at the Detroit auto show next week.
The legal action is the latest move in an ongoing feud between Fisker and his former employer, according to the American financial newspaper the Wall Street Journal.
Ongoing battle
Aston Martin has stated publicly that the lawsuit is without merit.
Fisker's complaint claims that after a sketch of his latest design, the Force 1, was released, Aston Martin had their lawyers send him a letter demanding that he must not display the car at the show or change the design "to avoid conflict with Aston Martin's rights".
The letter also said that Aston Martin would "not hesitate to protect its valuable rights" and claimed that Force 1 was very similar to the Aston Martin DB10, a car it made for the recent James Bond movie 'Spectre'.
No Thunderbolt
Fisker's lawyer said that the Force 1 has nothing to do with Aston Martin's designs and that a lawsuit "would subject him to public humiliation, embarrassment in the industry and significant financial losses".
Aston Martin has already sued Fisker over another car design, the Thunderbolt. That case was settled, and the Thunderbolt is no longer slated for production.
Fisker joined Aston Martin in 2001 and worked there until the end of 2004.
Bad karma
He left Aston Martin to start his own electric-car company, Fisker Automotive Inc, and its hybrid car Karma was hailed as a pioneering green sports cars following its launch in 2008.
However, business nosedived somewhat as competitors, most notably Elon Musk's Tesla, stole the march.
Fisker Automotive went bankrupt in 2013, and in 2014 the company was acquired by China Wanxiang Group.