News
Illegal trade of confectionery products and soft drinks on the rise in Denmark
---
This article is more than 7 years old.
There may be more than you bargained for in that packet of slik.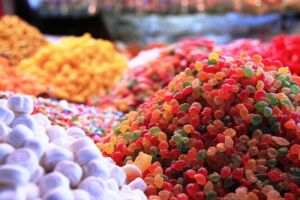 A new study by the Danish Veterinary and Food Administration (DVFA) has established that the number of cases of fraud involving the sale of confectionery products and soft drinks doubled in 2015.
"[The number of cases] has almost exploded through our fingers," DR reported Søren Jensen from DVFA as saying.
High taxes
The high taxes levied on the sale of sweets and sodas in Denmark make the two commodities particularly attractive to target, and this has led to a lot of foreign imports, products past their expiry date being repackaged – which carries the risk of poisoning consumers – and homemade products.
"It is a recent phenomenon, but there is a lot of money in it," said Jensen.
The illegal trade of confectionery products is immense – and it's only getting bigger. In 2013, Skat estimated that approximately 3 million kg of candy was traded illegally.
Jensen also noted that the main problem authorities face is in tracing the sources of the sweets sold on grocery shelves around the country.
"If I go out and do a routine check in a retail store, there are problems with the traceability in 70 to 80 percent of cases. There are much bigger problems if you go further back in the chain," he said.
Sweet business for organised crime
Søren Jensen believes that a big part of the problem lies in the fact that organised crime is getting in on the action. Morten Mørch Sørensen from Skat agrees.
"The prevalence of fraudulent candy is in our view very big at the moment. We have seen a big increase over the last few years, and also of the part [played by organised crime], which we are using the increased controls to try to address," he said.
It is estimated that Skat was cheated out of 300 million kroner in moms (VAT) and other duties in 2013. The DVFA inspections triggered fines of approximately half a million kroner in 2015.
When Skat's away, the rats come out to play …
Most of the confectionery and soft drinks in question has been seized from wholesalers.
In one of the largest raids ever, 77 tonnes of soda were seized from an unregistered grocery store in Valby.  The soda – stored together with candy, flour and wine – was found in extremely unhygienic, rat-infested conditions.