News
Record year at Copenhagen Airport thanks to Ryanair
---
This article is more than 7 years old.
One million more passengers travelled via Kastrup in 2015 than the year before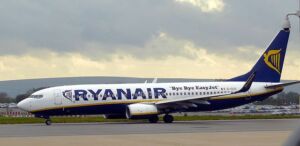 A record 26.6 million travellers passed through Copenhagen Airport in 2015 – one million more than in 2014, representing an increase of 3.8 percent.
While the airport itself has done its part in ensuring future growth by expanding so that giant aircraft like the Airbus A380 can land and take off, the low-cost Irish airline Ryanair is taking most of the credit for last year's success.
Over 100,000 travellers per month are using Ryanair to fly in and out of Kastrup, making it already the third largest operator at the airport, surpassed only by Norwegian and SAS. During the winter season, 572,000 passengers have flown with SAS, 243,000 with Norwegian and 103,000 with Ryanair.
Ryanair has been steadily expanding since establishing itself at Copenhagen Airport last March.
Ryan flyin' high
Industry experts estimate that Ryanair has accounted for most of that increase.
"Ryanair has probably sent somewhere between 500,000 and one million travellers through Copenhagen in 2015," said Henrik Baumgarten from standby.dk.
Kasper Hyllested, a spokesperson for Copenhagen Airport, said that it does not comment on individual airline statistics.
"Ryanair has contributed to the growth in the number of passengers at Copenhagen Airport, along with several other airlines," Hyllested told avisen.dk.
It's all about that base
However, industry watchers say that Ryanair could encounter problems expanding in Copenhagen because the company does not have a base at Kastrup. Having a base means the airline has flight crews working from the base and aircraft stationed at the airport.
Ryanair refuses to establish a base because it will not accept trade union demands for agreements with pilots and cabin crew.
"Without a base, it is difficult to operate morning flights with business travellers to Europe's major cities," said Andreas Krog, the editor of checkin.dk.
READ MORE: Ryanair flight attendants paid half the going rate, contends union
There are plans to expand Copenhagen Airport so it can handle 40 million annual passengers. Ryanair has said it hopes to reach passenger levels of 2.5 million annually.