News
Danish ambassador fires back at critics of country's immigration policies
---
This article is more than 7 years old.
Envoy to the US has heard enough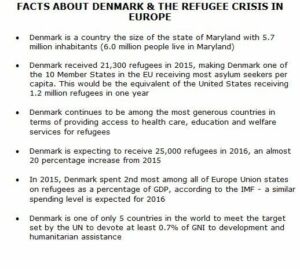 A notice from the Danish Embassy in Washington widely shared on social media aims to eradicate what the embassy feels are misconceptions about the new asylum austerity measures adopted by Parliament on Tuesday.
The post attempts to explain why Denmark is making such a big deal about the 21,000 refugees accepted in 2015, explaining that it has actually taken in a large number of refugees in relation to how small a country it is.
"It might not be large numbers, but one must not underestimate the economic consequences of the refugee crisis for the Danish welfare state," Lars Gert Lose, the Danish ambassador to the US, said last night on BBC World.
Lose – and the post from the embassy – explained that 21,000 refugees coming to Denmark would be the equivalent of 1.2 million arriving in the US.
Misconceptions
The Foreign Ministry is working overtime to tackle what it sees as misconceptions about Denmark and to improve the country's image abroad.
"The Danish embassies and Foreign Ministry have been working for weeks to explain what we are actually doing," Kristian Jensen, the foreign minister, told Berlingske.
"We have worked directly with the foreign press to explain the context of the new laws, but the Danish government doesn't edit the foreign press.
READ MORE: Chinese artist pulls his work out of Denmark to protest against new asylum laws
Other Danish embassies around the world have sent out 'fact sheets' via social media explaining Denmark's handling of the refugee crisis.
"One must say that the law has been misunderstood," said Lose.
"You must understand where the law is coming from. The goal is to stand firm on the principles that everyone should have the same rights in the welfare state, so the economic impact is not small."
Not alone
As for the most controversial section of the law that allows the government to confiscate valuables from refugees that are worth more than 10,000 kroner, Lose said it wasn't a practice exclusive to Denmark.
"This is not an invention of the Danish government," he said. "It has been done and is being done in other European countries."