Business & Education
This week's Copenhagen Jazz Film Festival to recall the capital's glory days of the 1950s and 60s
---
This article is more than 7 years old.
Leaving America in the 1950s and '60s, many of the musicians were happy to be in a city where they "no longer needed to figure out where the back door of the club was for a quick getaway in case trouble started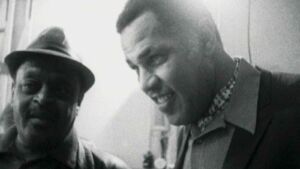 If you aren't plugged into the jazz scene, or haven't scratched beneath the surface of Copenhagen's musical past, the capital may not spring to mind as a city with a great jazz past.
So prepare to be enlightened, as this week's Copenhagen Jazz Film Festival (Husets Biograf, February 3-4) is dedicated to recalling an era in which an impressive array of visiting American jazz stars made the city one of the jazz capitals of the world.
Paris, London, Montreux, Copenhagen
While America will forever be considered the home of jazz, and European cities like Paris, London and Montreux in Switzerland have high profile jazz credentials, Copenhagen's rich relationship with jazz over the past 50 years or so is a compelling story that also makes a good case for it being considered amongst the major jazz cities of the world.
Danish jazz stars have been making names for themselves beyond their own borders for decades, but a significant chapter in Copenhagen's jazz history deals with the special relationship between the city and visiting American jazz stars.
These visitors not only came to Copenhagen in the 1950s and 60s, but in many cases stayed here for the rest of their lives after being hugely encouraged to do so by a local population that was all too happy to have them.
Dotted around Copenhagen are signs of the depth of this relationship. In the heart of Vestre Kirkegård Cemetery, the graves of drummer Ed Thigpen and trumpeter Thad Jones occupy prominent positions alongside former Danish prime ministers, and bassist Oscar Pettiford's grave in Frederiksberg Kirkegård received a remarkable facelift in 2010 by internationally-renowned Danish artist Per Arnoldi. In Sydhavn, courtesy of the roads named after saxophonist Ben Webster, pianist Kenny Drew and others in the recent housing developments in Sydhavn, this love affair is literally signposted. So why did these American musicians come, and what made them stay?
The American invasion
American jazz and big band tours of Europe were common from the 1930s onwards, but the permanent honours of street names and graves were not handed out just for playing a show here. As well as Webster, Drew, Thigpen, Jones and Pettiford, the likes of saxophonists Sahib Shihab, Ernie Wilkins and Dexter Gordon, trombonist Richard Boone and pianist Horace Parlan all made Copenhagen their home during the '50s, '60s and beyond.
The first to do so was one of the most famous names in jazz. "Stan Getz was the first to move here in '58, with his Swedish wife" confirmed Henrik Wolsgaard-Iversen, a jazz journalist who is the chairman of the Ben Webster Foundation, which was set up after the star's death in 1973 to support jazz in Denmark. Getz only stayed here for three years, but that was enough to spread the word, and soon others were being enticed by talk of the benefits of life in Europe. In particular, Wolsgaard-Iversen believes there was one key factor that kept the artists happy on this side of the Atlantic: respect.
'Copenheaven'
"They were respected as artists, not just musicians. There were interviews, programmes on the television, radio shows – they were treated like kings," explained Wolsgaard-Iversen. At this time, the US was still a nation divided by racial segregation, so for many of these black musicians, Copenhagen's equality was a liberating breath of fresh air. As Wolsgaard-Iversen put it: "They no longer needed to figure out where the back door of the club was for a quick getaway in case trouble started."
Dexter Gordon, quoted in the sleevenotes of the LP 'Dexter In Radioland Vol 1', confirms the significance of the respect he felt in Denmark. "Over here one of the most important things, and one of the biggest reasons for my being here, is that you do get that respect and that's important," he said. That respect manifested itself in other ways too, including good levels of pay for performances, and welcome attention from Danish women. Back to Wolsgaard-Iversen: "The girls loved the jazz artists because they were so exotic and different from the boring stuff they were used to." No wonder Gordon nicknamed his adopted home city 'Copenheaven'.
As life away from the US brought respect and recognition as an artist, it also enabled artistic freedom. As Kenny Drew explained on the sleeve to his 1976 album 'Morning', which he recorded in Copenhagen: "I have probably worked in more different contexts than if I had stayed in New York where I might have got musically locked in with a set group of musicians".
They all embraced the opportunity to work with a wider variety of players. For example, Gordon's Radioland record (recorded in 1962, but released in 1978) is actually credited to the Dexter Gordon & Atli Bjørn Trio (the latter being a Danish pianist) and features several established Danish names. The LP was released on the influential Danish jazz label Steeplechase and produced by that label's founder Nils Winther, but the most significant clue that the record gives as to the benefits of life in Copenhagen, is where it was recorded – live in one of the most important jazz venues in Europe, Jazzhus Montmartre.
Home to the stars
Montmartre was the physical embodiment of this respect that seduced so many visiting American artists. Founded in 1959, this now legendary club's own history proclaims: "They all moved to Copenhagen for Montmartre." While that might sound like an overstatement, there are numerous sources that confirm
Montmartre's pivotal role in enticing, welcoming and ultimately attaching these jazz stars to Copenhagen.
Not only was it a venue that treated artists with respect, it had an enthusiastic crowd and hooked the players up with talented, open-minded Danish musicians, such as the bassist Niels-Henning Ørsted Pedersen, drummer Alex Riel, trumpeter Palle Mikkelborg and many others. Many of the fruits of these collaborations can be found amongst the vast stock of LPs in Sound Station on Gammel Kongevej, and the staff there are unequivocal in their answer to the question regarding why the Americans came to Denmark. It's simply "Montmartre" every time.
Thad Jones, one of the later arrivals to Scandinavia when he moved to Copenhagen in 1978, released a big band album under the name 'Eclipse' in 1979. Its sleevnotes describe Montmartre as "a cultural centre in Copenhagen". Despite this, a combination of economic factors led to the club closing in the '70s, but thankfully its doors were reopened in 2010 on Store Regnegade.
A two-way street
In other cities though, this history may well have gone uncelebrated if not for the work of a handful of dedicated Danes who were inspired to recognise and protect this heritage.
Erik Moseholm, the renowned Danish bassist and bandleader who died late in 2012, played a key role in securing the jazz artist street names in Sydhavn. While many city authorities might opt for the safer route of dedicating new streets to people or places from their own country, the decision to recognise these adopted sons is definitely a welcome departure from the norm.
Simple acts of hospitality are also not to be underestimated in making the Americans feel at home. The likes of Herluf Kamp-Larssen, Montmartre's owner throughout the '60s, and Wolsgaard-Iversen himself, who counted Webster, Drew and Boone as houseguests, were just two of the many who lent a hand.
And finally, there is Hugo Rasmussen. The Danish bassist led a campaign to rescue the grave of Oscar Pettiford from disrepair, and in doing so recruited Per Arnoldi to create the impressive marble structure that now provides worthy recognition of this pioneer of American settlement in Denmark.
A hospitable climate
Both then, and now, Copenhagen is a city that welcomes American jazz artists with open arms. In 1979, Danish journalist Jack Lind summed it up perfectly when he wrote the Eclipse sleevenotes: "Copenhagen offers one of the most hospitable climates for jazz in the world."
Ultimately, that is exactly why it was so successful at attracting big names to live and thrive here. Now, as the first wave of American artists are fully recognised across the city, and the thriving annual jazz festival and reopened Montmartre keep musicians visiting regularly, Copenhagen continues to be one of the great jazz cities of the world.