News
Roskilde Airport named best business airport
---
This article is more than 7 years old.
Great service and excellent facilities behind the triumph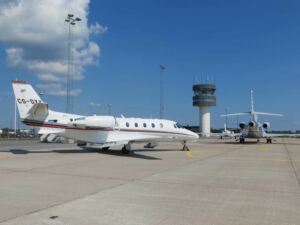 Roskilde Executive Handling has been named the best business airport among 400 such airports in Europe, the Middle East, Russia and Africa by European Business Air News magazine.
Roskilde Airport was ranked first in a reader survey of European fixed-base operator (FBO) companies (here in English) ahead of Universal Aviation UK at London Stansted, Rizon Jet at London (Biggin Hill), AvFlight at Belfast City and Universal Aviation France at Paris (Le Bourget).
Grafair Jet Center at Stockholm (Bromma), Universal Aviation Greece (Athens), Eccelsa Aviation (Coasta Smerelda), Sky Valet (Cannes) and Mallorcair (Palma de Mallorca) completed the top 10.
READ MORE: Record year at Copenhagen Airport thanks to Ryanair
Service wins the day
The Roskilde FBO includes VIP and crew lounges, where passengers and crew can meet and relax in an atmosphere of Scandinavian-designed surroundings.
"Our terminal can't really match the business airports such as Farnborough, Münich or Geneva, so we have to hedge our bets on good and personal service," Lars Lip, the head of the airport, told Take Off news service.
Every year, about 18,000 private business jets land at the airport in Roskilde, located just south of Copenhagen.