News
Democracy at work: where the public gets what the public wants
---
This article is more than 7 years old.
Functionality the key at the autumn-winter edition of Copenhagen Fashion Week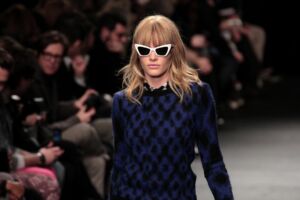 It's hard to imagine a photo of an ultra-thin model provoking outrage among readers in the likes of Paris, Milan and New York, but Copenhagen isn't your traditional fashion powerhouse.
The reaction of the thousands who took to social media to condemn fashion magazine Cover early last year typified the country's wholesome, collective approach to fashion. The people spoke, the fashionistas listened, and the matter was resolved!
Festival for the people
High couture and luxury goods rarely get a look-in, but that doesn't mean the Danish capital isn't trendy. Far from it!
Instead designers embrace functionality, practicality and providing good value for money. And they are well served by the intimate nature of the biannual Copenhagen Fashion Week, which from Wednesday to Saturday this week is taking the capital by storm.
"Copenhagen Fashion Week is more intimate than other fashion weeks around the world. It really speaks to the people," enthused Anne Christine Persson from the Danish Fashion Institute (DFI) last year to the Copenhagen Post Weekly.
"Everyone gets much more involved: you can see fashion week on the streets. The city is dressed in fashion and it becomes more alive during Fashion Week."
Democracy at work
Whereas previous years have seen a focus on eco-friendly and sustainable products, this year's buzz word is functionality. This week's new lines will no doubt be fashionable, but they will also be mostly useable, available, sympathetic, efficient and functional.
According to Eva Kruse, the managing director of the DFI and the Copenhagen Fashion Week, this is evidence of a kind of democracy at work.
"It is democratic because it fits everyone and is accessible for everyone," she told the Copenhagen Post Weekly.
"It is sufficiently simple and aimed at the middle and upper segments in society. Compared to many other fashion houses, it is neither high couture nor luxury fashion we are creating."
Adapted to the conditions
After all, high couture does tend to clash with cycling, and Copenhagen is the number one city in the world for the two-wheeled form of transport. It also has to deal with adverse weather conditions, and don't forget those pesky cobblestones!
"Danish people live their lives as normally as possible, no matter what the weather dictates," asserted Kruse.
"We jump on our bikes to go to work no matter if it is raining or snowing, and therefore the clothes we wear need to be practical."
Power to the people
While Danish designers are inspired by current fashion trends, they take care to consider modern Danes' needs and daily routines. According to Kruse, the people wouldn't stand for anything else.
"It isn't the designers who dictate fashion for the Danes, but more likely, the other way round," she said.
"When the designers unfold their ideas for new collections, I don't think they have it in mind that the clothes have to fit into certain categories. Of course it is inspired by the surrounding culture, but I think it's the Danes who are using the fashion in a more practical way to make it fit into their lifestyle – not the designers who design practical clothes."
Kruse cites the growing popularity of the sneaker style, a footwear frowned upon in the fashion capitals of the world.
"Lately it has become really popular: practical sneakers combined with pretty dresses, skinny jeans or even a suit," she said.
And good value too
price continues to be king. As London-based Danish designer Peter Jensen told the Copenhagen Post Weekly in 2012, Danish fashion companies tend to stand out for having a very strong approach to being commercial.
"They're very price-orientated, and I think they know how to build a company. Basically, I think that is a strength," he said.