Film
TV this week: X ticks a spot left vacant for 14 years
---
This article is more than 7 years old.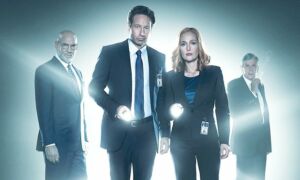 Pick of the week:
The x-files 3+, EP3: fri 23:25 & EP4: Thu 21:00
Moving with the stealth of a Black Projects operative onto our screens last week, the revival of The X-Files following a 14-year hiatus caught us completely off-guard.
We missed it! Episodes 1 and 2 have come and gone quicker than a UFO landing in redneck country, but we're sure you'll make good use of the skills you developed following Mulder and Scully to work out where you can source them.
Screening just three days later than in the US, somebody at 3+ wanted this six-episode tenth season more badly than the keys to Area 51.
Can David Duchovny shake off the sleaze of Californication, and can Gillian Anderson ditch her British accent? So far the reviews have been promising. (DD)
Also new:
Women account for 15 percent of all arrests in England and Wales, but only 5 percent of the prison population. The Rise of Female Violence (DR3, Mon 20:30) questions whether they get off too lightly, but by making excuses (not often heard about male abusers), many felt it fell (more likely pushed!) short of understanding why women are becoming more aggressive.
By now we know pretty much everything that happened in WWII thanks to programs like World War 2 in Colour (DRK, Mon 21:45) that lavish us with insanely vivid footage.
Antibiotics worked back then, but now, claims Hunting the Nightmare Bacteria (DR2, Wed 23:00), they've reached their expiry date.
And don't miss 2015 Oscar nominee Cartel Land (SVT2, Mon 22:15) in which a citizen stands up against the Mexican drug cartel and inspires a movement – both fellow Mexicans to act and among audiences.
Elsewhere, we've got S2 of British crime series Happy Valley (DR1, Tue-Thu 00:00) and S3 of young Morse drama Endeavour (SVT1, Sat 21:30; there's another chance to see TV movie Burton & Taylor (DRK, Sat 20:00) starring Dominic West and Helena Bonham-Carter; and The Town that caught Tourettes (DR3, Wed 20:40) explores what happened in US small town LeRoy in 2011. Ticks or tricks? (BH)
Coming soon:
Outsiders
Having only just premiered on January 26, Netflix series Outsiders is very new to the world but already establishing itself as a mainstream contender.
Underated Sean Penn collaborator David Morse (The Green Mile, Treme, John Adams) is the leader of a lawless, violent mountain clan living off the grid in Appalachia.
A reviewer from Collider describes Outsiders as "reminiscent of the FX series Sons of Anarchy and Justified".
Its Metacritic rating of 63 suggests the critics weren't blown away, but it rates much higher with the general public. (DD)
Sport of the week:
Apologies Super Bowl (3+, Sun 22:00), but this is a landmark moment. Thanks to the success of the Rugby World Cup (and the Danish national team?), we've got live coverage of the Six Nations (TV3 Sport 1, Sat 17:45). And it's a pretty tasty line-up in the EPL (K6, Sat 13:00) where Man City vs Leicester City is the third top-of-the-table clash of the season. Those were the days, Chelsea vs Man Utd (TV3 Sport 2, Sun 16:55). (BH)
Film of the week:
2013 Oscar nominee Dallas Buyers Club (TV2, Sun 21:00) should delight most people – unless of course they're rabidly homophobic or a fanatical advocate of trans actors' rights who objected to Jared Leto getting the gig. The Savages (DRK, Thu 21:30) starring the late Philip Seymour Hoffman has good reviews; Russell Brand vehicle Arthur (K4, Mon 20:00) and Jonah Hill comedy The Sitter (TV3, Sun 21:00) do not. (BH)