Things to do
A debonair dozen to check out at Vinterjazz 2016!
---
This article is more than 7 years old.
With hundreds of concerts until February 28, there's plenty to enjoy over the rest of the month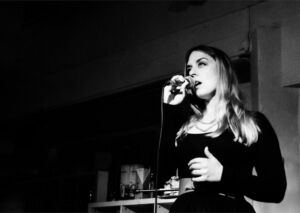 Since last Friday, Vinterjazz has been welcoming music fans to venues all over the country. Its ambition, 600 concerts over three weeks, would appear to suggest that its big sister, the Copenhagen Jazz Festival, has some serious competition. Whatever the outcome, it's a win-win for jazz fans in Denmark, the Nordics and all over the world.
The nationwide musical festival will kickstart the jazz season for venues, jazz clubs, unions, audiences and of course the musicians, who benefit from the period's increased activity by getting the chance to take up tours.
2015 was a record-breaking year for Vinterjazz, encompassing 100 venues and approximately 500 concerts all over Denmark. This year marks the 16th edition of Vinterjazz with over 600 concerts curated by Copenhagen Jazz Festival, along with 22 independent organisers. Compared to last year's festival, Vinterjazz 2016 has added a week to its already sizable range of exciting concerts and events.
From local to international
As is usual for Vinterjazz, a selection of the festival's headliners can be experienced at multiple venues. The nationwide musical festival hosts acts such as organ-icon Dr Lonnie Smith, progressive Brazilian afrobeat from Bixiga 70, American instrumental jazz-rock in the shape of Tortoise and the famous Polish trumpet legend Tomasz Stanko.
As well as presenting international stars, Vinterjazz is also an important showcase for home-grown talent. Virtuoso harmonica and keyboard player, Mathias Heise, recently picked as 'Jazz Star of the Year' by the Danish songwriters, composers and lyricists association, and Kathrine Windfeld, a talented pianist and composer, and her 15-piece orchestra comprised of Danish, Swedish and Norwegian musicians, are just two of the many Danish acts on offer at this year's festival.
What makes Vinterjazz such a special music event, is that it is a nationwide potluck between venues and organisers, musicians and audience, large and small cities – a national initiative created locally. Unlike its sister Festival the Copenhagen Jazz Festival, Vinterjazz is primarily a club festival, to kick-start the season for the many jazz venues and organisers, all of which create an environment where jazz can develop and live all year round.
Plan your festival viewing online
Plan your festival on My Jazz.dk or app Live Jazz Denmark, which can be downloaded free for iOS and Android. You are able to view programmes and purchase tickets to various concerns and events.
For more information on the festival, and to download the full programme of events, visit
jazz.dk
.
International acts to watch
Poland's 'grand old man' of the trumpet, Tomasz Stanko, will feature a new group of young musicians from Poland, Denmark, Norway, Finland and Iceland. Stanko is regarded as one of the foremost trumpet players in Europe. Initially coming to prominence in the Krzysztof Komeda Quintet and having worked in various styles of jazz, and with classical composers such as Penderecki. (Tickets: 160kr).
One of the new generation of American drummers is
Rodney Green
. Green has an impeccable pedigree, having played with people as diverse as Diana Krall, Wynton Marsalis and Herbie Hancock. He is appearing over three days at the hallowed Jazzhus Montmartre from
February 18-20
. His band consists of vibraphone virtuoso Warren Wolf plus Victor Gould (piano) and David Wong (bass). (Tickets: 325kr).
Falling firmly under the heading of world music meets jazz, the 10-man strong orchestra
Bixiga 70
from São Paulo promises a colourful hard-swinging fusion of African and Latin American styles. Initially inspired by the music of Fela Kuti, the band incorporates elements of Brazilian folk music with Malinké rhythms from Guinea as well as the groove from American Blaxploitation films of the 70s. The band can be heard at Global on
19 February
. Get out your dancing shoes! (Tickets: 120kr).
Continuing on a world music theme, fans of
Django Reinhardt
and the gypsy jazz tradition pioneered by the Hot Club of France would do well to check out the Dorado & Amati Schmitt Quintet. As well as being a fine guitarist and engaging raconteur, Dorado also plays violin. However, his son Amati almost outdoes his father as a virtuoso guitarist. The group is appearing in Jazzcup on
February
19
and at the larger Bartof Station venue on
February 20
. They are very popular, so get there early! (Tickets: JazzCup, 120kr/ Bartof Station, 150kr).
The
Classic Hammond jazz
organ trio (Hammond B3, guitar, drums) has been a staple of jazz since the 1950s. One of the greatest Hammond exponents, Dr. Lonnie Smith, will be in residence at the Jazzhus Montmartre from
February 25-27
. Smith has worked extensively with George Benson but here appears with Jonathan Kreisberg on guitar and Johnathan Blake (drums). Swinging funk-jazz at its best. (Tickets: 350kr).
For those with large ears and an adventurous nature, the international free jazz group
Globe Unity Orchestra
is a must-see. It all started in 1966, when pianist and leader Alexander von Schlippenbach was commissioned to write a piece for the Berliner Jazztage. That piece, entitled Globe Unity, gave the band its name. Many of the most illustrious names in European jazz have passed through the ranks over the years, as well as Americans such as Anthony Braxton and Steve Lacy. Fifty years down the line, the music is as uncompromising and surprising as ever. Globe Unity Orchestra will be appearing in JazzHouse on
February 25
. (Tickets: 160kr).
On the home front …
As part of the 'Wild at Heart' program,
Maria Faust
can also be heard in Shitney, a trio formed to explore new and uncompromising music, mixing acoustic and electronic sounds – live at JazzHouse on
February 16
. Beats, sampling and black and white visuals are all part of the mix. Shitney shares the bill with Eget Værelse, an all-female musicians collective. Their music is a synthesis of free jazz, noise rock, avant-garde, ethnic music forms and more, and the meditative/repetitive quality found in minimalist classical music (Tickets: 60kr).
The supremely talented pianist and composer
Jeppe Zeeberg
is part of an ambitious project led by drummer Kresten Osgood entitled Sølvtøjet. The ensemble is made up of some of the most prominent personalities in Danish jazz, both young and old, and will be appearing in JazzHouse on
February 20
. He can also be caught in a duo format with drummer Terkel Nørgaard on
February
13 at Mellemrummet. (Tickets: Sølvtøjet, 140kr/ duo, 50kr).
The young drummer
Anders Vestergaard
has also been making quite a name for himself lately. He can be heard in several constellations during the festival. He's playing in a duo with Norwegian drummer Ole Mofjell in Mellemrummet on
February
12 and as a member of pianist Jacob Anderskov's trio Kinetics in Christiania Jazz Club on
19 February
, and again with the same group on
21 February
at KoncertKirken. (Tickets: Mellemrummet, 50kr/ Christiania Jazz Club, 50kr/ Koncertkirken, 60kr).
The tuba is an instrument rarely heard in a solo role. A graduate of the Danish Rhythmic Music Conservatory, the young Danish player
Kristian Tangvik
is doing his bit to remedy that. He can be heard in Gnom, a trio with Petter Hängsel (trombone) and Rune Lohse (drums) at Metronomen in Frederiksberg on
February
22. The music is abstract, free and experimental, so expect the unexpected. (Tickets: Gnom, free admission).
If you like vocal jazz with a new twist, the duo project of Hungarian vocalist
Kamilla Kovacs
and Danish alto saxophonist
Mia Dyberg
might well be something for you. The stripped-down format leaves plenty of room for both artists to interact and tell their own stories through their improvisations. They are appearing at KoncertKirken on
February 23
. Mia can also be heard as a member of pianist Christian Balvig's trio on
February
25 at Mellemrummet. (Tickets: KoncertKirken, 60kr/ Mellemrummet, 50kr).
Finally, for those looking for the established smooth sounds of jazz, don't miss the duo
ClassJazz
with Peter Kevin Kofod (Bass) and Berit Engblad (vocals) at the elegant Hotel Savoy Jazz Club on
February 12 and 13
.