News
Denmark to fight human trafficking in Aegean Sea
---
This article is more than 7 years old.
In September, Denmark will deploy the Absalon warship to monitor the area as part of NATO operations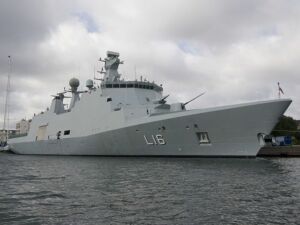 Denmark will contribute to a NATO-led mission against human traffickers in the Aegean Sea between Greece and Turkey, it has been reported following a NATO meeting in Brussel.
In September, Denmark will deploy the naval vessel Absalon to monitor the area and gather information about the routes smugglers use to bring people into Europe.
Return to Turkey
According to the defence minister, Peter Christensen, the warship will not be involved in physically apprehending traffickers, which will be the responsibility of local coastguards.
"But there may be situations in which a boat is sinking when the general rules of the sea to help people in need will apply," Christensen told DR.
"The agreement is that refugees and migrants will be transported back to Turkey no matter how close to Greece they are."
The Absalon warship, which has previously helped fight pirates in the Gulf of Aden off Somalia, will participate in the NATO mission for three months.
Security conference
Following the NATO meeting, Christensen will now travel to Munich in Germany where a security conference with around 600 leaders and decision-makers is starting today.
They will debate current crises and future challenges to international security, including the fight against Islamic State and the flow of refugees to Europe.