News
Danish comedy sensation "makes fun of fat people", claims support group
---
This article is more than 7 years old.
The "remarkably odd and disarmingly honest" humour of Sofie Hagen is unwelcome asserts the National Association for Overweight People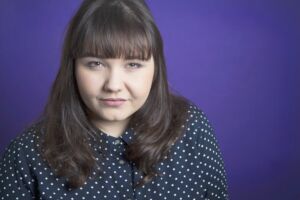 The last time the Copenhagen Post Weekly spoke to Danish comedian Sofie Hagen was in August 2013. After moving to the UK a year earlier, she had already assembled an impressive collection of accolades, including the Laughing Horse 'New Act of the Year', but was by no means a household name yet.
It was a pretty smooth, straightforward exchange. She appeared confident about making it over there, expressing a belief that English was a far better language for comedy than Danish.
And she was right! Fast-forward almost three years, and the acclaim has kept on coming. The Copenhagener won the Chortle Best Newcomer Award in 2014 and then followed that up with the highly-prestigious newcomer award at last year's Edinburgh Festival.
It's safe to say she's arrived on the comedy scene with a bang, but for some the attention her comedy brings is unwelcome: namely the nature of some of her material about being fat.
We wanted to ask her whether she could explain her thought process behind some of her more risqué gags – it turned out to be a point she wasn't prepared to discuss.
Butt of the joke
Sofie Hagen by own admission "likes being fat", and a great deal of her material makes light of her body shape and some of the strange interactions she has with men who are interested in sleeping with her, often presumptuously.
However, Birgitte Hansen, a spokesperson for the Danish National Association for Overweight People, believes that Hagen is prone to losing focus.
While many of the jokes are self-deprecating or cracked at the expense of one of her suitors or "skinny people" in general, they too often resemble the kinds of remarks that might be said at the expense of fat people.
A serious issue
"She absolutely makes fun of fat people," Hansen told the Copenhagen Post Weekly.
"It's great if you can laugh at yourself and embrace your own body, but inviting people to feel comfortable laughing at you and everybody else that has the same issue is not something we can approve of."
Hagen needs to give her material more consideration, asserts Hansen.
"Being overweight is a problem that some people get trapped in and there's no easy way out, so it's extremely difficult to cope with."
Wandering focus
Hansen cited a 2014 routine entitled '4 Minute Comedy – Sofie Hagen on BBC Radio 1' on YouTube in which the comedian appears to lose track with her focus, setting up a barrage of jokes under the guise skinny people might presume they know what fat people get up to in their spare time.
"It's like an organisation for fat people, which would be amazing where we just meet up and do a bunch of inactivities," she muses.
"Sit around and drink gravy. We have this one day when we pretended we were skinny – to talk like skinny people. It would be just like: I have a waistline. I don't know. Oh, I can fit on a plane seat. Oh, I put crisps in a bowl before I eat them – I have too much time."
Performing next week
Hagen is performing her latest show 'Bubblewrap' in Copenhagen next week at the Bremen theatre, and we were initially invited to find out more details about her show, career and success in the UK.
While the February 24 show had sold out, there are still tickets remaining for the February 23 show. 'Bubblewrap' will be performed in English.
How did you start your career in comedy?
Completely by accident. I started working at an open mic where I would go and see comedy every Tuesday. Soon after that, I would also go on every other day of the week. I just became obsessed and that hasn't stopped. As soon as I started performing myself, I didn't look back.
How would you describe your comedy?
I was once described in a review as "remarkably odd and disarmingly honest" and I think that is a fair description.
Did you initially plan to branch out internationally?
Absolutely not. I barely planned on doing comedy professionally. My whole life feels like a dream – I don't remember how I got here, but here I am. Part of me is still expecting that I'll eventually go back to school and work in a supermarket.
Do you think your comedy translates well into Danish culture?
I know it does. I am Danish, so my comedy should be quite suitable for Danish audiences, even though I do it in English.
How did you start working on your podcast 'The Guilty Feminist'?
My friend and amazing role model Deborah Frances-White were having one of our regular eight-hour brunch dates and started talking about how we sometimes felt bad that we weren't good enough as feminists. The conversation just kept going until we realised that we should do something. Others must feel the same way. So we invited some brilliant guests into a room in front of a live audience and recorded the chat.
How would you describe the content of your stand-up special 'Bubblewrap'?
It's a very, very personal show – and very honest. I talk about mental health, boybands and sex. The experience of doing it has been incredible – it won the Foster's Edinburgh Comedy Award which launched my career, really. So I have no bad experiences with it.
Do you have any major plans in store for your comedy?
I am currently working on a new show – and I'm on my way to the Melbourne Comedy Festival and, later on, New York and LA. But I am mostly excited about doing 'Bubblewrap' in Copenhagen, my home town, at Bremen Teater. I am bringing my good friend and brilliant comedian Alison Spittle as a support act and I am so happy that my audience gets to see her.
Hagen absolutely denies making fun of fat people. Check out her show at Bremen next Tuesday to decide for yourself. Tickets cost 145kr at brementeater.dk