General
Out and About: Queuing around the block for dual citizenship
---
This article is more than 7 years old.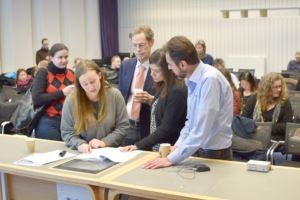 Both Danes and internationals last week flocked to an event co-organised by Danes Worldwide and Expat in Denmark to find out more about applying for dual citizenship.
Held at the Lyngby headquarters of Haldor Topsoe on February 23, the event was sold out well in advance, but there will be more, promise the organisers.
"The possibility of dual citizenship is one of the things that can help to make it attractive for talented scientists and specialists to stay in Denmark and create value here.
"A scientific company like Haldor Topsoe need talented, highly qualified specialists from both Denmark and the rest of the world," enthused Pia Møller Appel, the group vice president in HR at Haldor Topsoe.
"Therefore, we are happy to see that dual citizenship can help to pull those people to Denmark and convince them to stay here."
Anne Marie Dalgaard, the secretary general of Danes Worldwide, concurred that dual citizenship enables better integration. "It is very positive that Denmark has now caught up legislatively with most other EU countries," she said.