News
Danish health support has made huge impact in Ghana
---
This article is more than 7 years old.
Falling mortality rates, more doctors and access to free medication among the benefits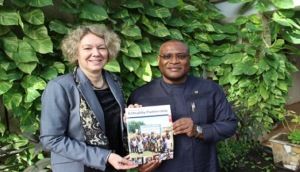 Since Denmark began supporting the development of the health sector in Ghana over two decades ago, the sector has made huge strides and is now in a position to begin financing itself as the Danish aid is phased out this year.
The 1.6 billion kroner that Denmark has given in development aid to Ghana's health system over the years has led to mother and child mortality rates being halved, the number of doctors tripled and the public health budget sky-rocketing, to mention a few improvements.
"Fortunately, Ghana has come a long way in the 22 years that Denmark has supported our health sector," said Alex Segbefia, Ghana's health minister, who attended an event at the Danish embassy in Accra last week.
"We need to finance the health services that Denmark has helped pay for. We must get our citizens used to paying more in tax and do so by convincing them that they are getting something from the tax they pay."
READ MORE: Denmark strengthening maritime co-operation with Ghana
More strategic partnership
The Danish support has been essential for Ghana's unique national health insurance, which gives the poor and vulnerable free access to medical aid and other health benefits.
Tove Degnbol, the Danish ambassador to Ghana, said that the Danish/Ghanaian partnership would be transforming from a traditional development co-operation to a strategic partnership focusing on business, politics and cultural arenas.
An example of this took place late last year when the Business and Growth Ministry decided to boost its position in Ghana by establishing a maritime link at the Danish embassy in Accra.