Sport
Meet the Celtics at their annual 7s cup
---
This article is more than 7 years old.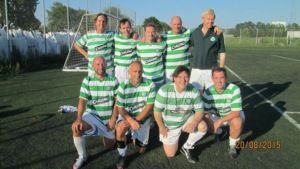 If you're hankering for a game of football, some good banter and a perhaps even a bit of fitness, come down and see the great potential on display as Copenhagen Celtic kicks off its annual sevens tournament this month.
The mini tournament will feature four of the club's sevens teams – the over-18s, over-33s, over-40s and over-45s – with the older boys looking to oust the young guns from their perch as winners last year.
As the largest amateur international football club in Denmark, Copenhagen Celtic is using the tournament to gear up for the upcoming season.
The club, which has been the cornerstone of the international community in the Danish capital for decades now, also offers eleven-a-side football and is always on the lookout for new members.
So come down and admire some football and, yes, even a beer belly or two.
The matches will take place at Valby Idrætspark at 20:30 on March 10, 17 and 31.