News
Defence minister visits Danish soldiers in Afghanistan
---
This article is more than 7 years old.
Peter Christensen thanked the deployed troops for their efforts in increasing security in the fragile state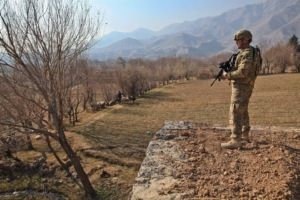 Peter Christensen, the defence minister, met last Friday with Danish soldiers deployed to the Afghanistan capital Kabul.
Christensen thanked the soldiers for their hard work and efforts to increase security and stability in the fragile state.
"Although the security situation in parts of Afghanistan remains fragile and the fight against the Taliban is for the long haul, it's been uplifting for me to see the difference we at NATO have made and are still making," Christensen stated.
READ MORE: Military experts concerned about Denmark's NATO future

The minister stressed Denmark's role in the stabilisation of the war-torn country and the importance of providing continuous support to the local security forces.
Currently, there are about 85 Danes deployed to NATO's 'Resolute Support' mission in Kabul.
The Danish contribution focuses on providing advice, support and training to the Afghan security forces.