Business & Education
The World Cup-winning captain who got lost in Jutland
---
This article is more than 7 years old.
Money was at the root of a surprising alliance between Bobby Moore and Danish club Herning Fremad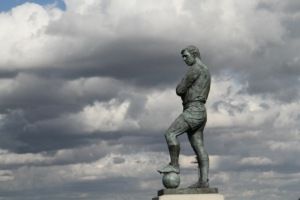 Many have recently laughed off claims that John Terry is considering a move to Superliga club Brøndby. And it does seem unlikely.
However, if Terry were to move, he wouldn't be the biggest name to move here from England. He wouldn't even be the most famous English centre back!
The mouse that scored a lion
It isn't certain that fans of the now-defunct Herning Fremad football club were aware of just how big a figure Bobby Moore was in the sport when he joined the club in 1978.
Herning Fremad were languishing in the Danish third division and had never been anywhere close to contending on the international scene.
Moore was arguably the greatest player to ever don the Three Lions jersey, although he was 37 and at the tail end of his career when he came to Jutland for a nine-game stint that year.
It was nonetheless a shock of major proportions when HF managed to sign the defender, who led England to its only World Cup victory in 1966.
To this day, few know exactly why the superstar agreed to come to Herning. Reports that he was paid £24,000 for the stunt would suggest it was simply easy money for the former superstar, who admitted to having some financial difficulties at the time due to poor business decisions.
Partly for the publicity
Liberal Party MP Helge Sander was the managing director of Herning Fremad at the time. He said one of his sports colleagues, Ron Webb, came up with the idea to sign Moore, and Sander believed the wild scheme could actually be feasible.
"It was partly to strengthen the club but also for publicity's sake, I won't deny that," Sander told sports publication Tipsbladet in May.
"We were in the shadow of Ikast at the time so it was very important for me to get us some press so I could pull in sponsors. I got hold of Bobby Moore via a Danish journalist in London and we were able to come to a tentative agreement."
Sander was unquestionably a progressive thinker when it came to football marketing. He also got Denmark's biggest rock band, Gasolin', to pitch in half a million kroner to the club.
First ever foreigner to play here
Moore's arrival to HF was not only unusual because of the team's third division standing, as the Englishman actually became the first ever foreigner to play in the Danish League.
In fact, it was only the year before that Denmark allowed football players to actually earn money as professionals. Until 1977 all players in the league had amateur status.
Wages included taxi fares
Sander himself said the actual sum paid to Moore was 5,000 kroner per game, plus expenses – and there were a lot of those, he added.
"Bobby didn't live in Denmark during the period, so we had to pay to have him flown over, and then pay for the taxi to take him to Herning," Sander told the Copenhagen Post.
"It was a lot of money, but I don't know exactly how much. I do know that HF – as a third division club – quickly became the biggest club in the country."
Boost for business
According to Sander, the club's income for 1978 was more than any other club in Denmark, and it was partly due to Moore, but also due to Sander's own decision to aggressively market things such as jerseys and logos – something that was vehemently resisted by the Danish football association, the DBU.
Moore's arrival to the club also boosted the gate receipts. Herning Fremad set a one-match attendance record for the league that year, when the club sailed across the Baltic Sea to play in Rønne on Bornholm.
Flat for form
But it didn't help the club's form. "I think we went 2-2-5 during those nine games Bobby was with the club," said Sander.
"The problem was that his presence made our players 10 percent worse because they were so in awe of him. And on the other hand it made the other teams 10 percent better because they wanted to show Moore they could beat us."
In the end, even Moore knew that his decision to come to Denmark was a poor one, despite the money. The novelty wore off and crowds at the final couple of games were unimpressive. And although Moore played well and was in good physical form for a man of 37, he also realised he wasn't a world-class footballer any longer.
Unquestioned class
And the fact that Herning was in the middle of nowhere didn't help his mental state, according to his then-wife Tina.
"As the weeks went by he obviously wasn't the headline story any longer," she told Tipsbladet. "He was ashamed and he didn't want me to see what a hopeless project it was he'd thrown himself into."
But according to Sander, HF head coach Svend Hugger and his teammates, Moore was a complete gentleman during the period, cordial and always ready to play on game day.
"Even though he was coming from the top division in England to a third division Danish club, he was 100 percent serious about his job,' said Sander. 'He was never late and, in fact, usually arrived on the early flight. I had immense respect for that man."
The forerunner of FCM
Herning Fremad finished fourth in the division in 1978. Ironically, the following year it finished third and was promoted to the second division for 1980, where it finished a respectable 8th out of 16 clubs.
In 1999, Herning Fremad finally merged with Ikast to form the present-day Super League club, FC Midtjylland.