Business & Education
Escapism with Pelé and Stallone on the set of a cult classic
---
This article is more than 7 years old.
Søren Lindsted may not be a household name in his native Denmark, but fans of 'Escape to Victory' remember him well for his contribution to the much loved football film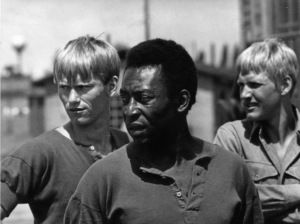 A remake?'' Søren Lindsted frowned in bemusement. "Really?"
However, the expression of the former Danish professional footballer, who was his country's sole representative in the 'original', the 1981 cult American film 'Escape to Victory', quickly changed when he heard the rumour had come from the Sun, the UK's best-selling tabloid newspaper.
"And Vinnie Jones is behind it? That's hilarious." Lindsted stirred his cappuccino as he started to suggest contemporary celebrities who might star in the supposed remake of the Second World War football film about a team of prisoners-of-war pitted against a Nazi mean machine.
"You'd obviously need an American to take Sylvester Stallone's place. How about Brad Pitt?" Lindsted continued to list names. "Oh, and Michael Caine should be replaced by that 'Notting Hill' guy. What's his name? Hugh Grant! And let's throw Rhys Ifans in there too. Just for good measure."
An escapist's fantasy eleven
The names might sound ridiculous on paper, but then again, the casting of the original was just as haphazard. Michael Caine was 48 when he was cast as an Arsenal centre back; Stallone had never played 'soccer' before; and half the first team of English top flight club Ipswich Town signed up on a whim when one of the film's producers arrived at their ground and asked who was interested.
They would join a host of stars past and present: Pelé, Ossie Ardilles, Bobby Moore, Mike Summerbee, Kazimariez Deyna and several others, including Lindsted of course. Little did they know what they had let themselves in for.
"Those Ipswich footballers were crazy," Lindsted recalled. "They had so many parties and turned up on set hungover almost every day. I remember the first night I arrived I was invited to Summerbee and Moore's hotel room where everyone was drinking. Especially Kazimariez Deyna. He loved his vodka. It was only when their wives showed up that they started to behave themselves!"
Pelé's bicycle kick … 100 takes later
Although the 59-year-old Lindsted, who was working at Copenhagen Airport when we caught up with him in 2013, had a minor role in the film, he saw plenty of action in the climatic match, including Pelé's iconic bicycle kick to make the score 4-4.
"That bicycle kick took forever," he said, rolling his eyes. "We spent hours trying to get it to work. In the end we just had cut it into sequences and put it together in the editing room. Pelé ended up having to just throw the ball up in the air and do the bicycle kick that way. Anything else would have been impossible."
Called up from the reserves
Lindsted's recruitment for the film was also a little unorthodox.
"It was all chance really," he said. "Someone in casting knew our coach at FC Twente, and the next thing you know, a bunch of us were asked if we wanted to be in a football film."
The film's producers had set out to find current or former professionals from each of the Nazi-occupied countries, but Lindsted was never their intended target to represent Denmark.
"I think Allan Simonsen was approached first," Lindsted said. "As were others. But none of them could go. So I eventually got the call, which I was only happy to take."
Lindsted was then flown to Budapest, with his wife and Norwegian teammate Hallvar Thoresen, to play the role of 'Erik Borge' for four weeks.
Cocky Rocky
"It was like a holiday," Lindsted said. "All we did was hang out and play football. I mean, a 20-second scene would take hours to set up. And we'd have kickabouts with Pelé and play small matches to kill time. Although Michael Caine and Sylvester Stallone never joined in."
Stallone, despite being a staunch Everton fan, had never kicked a football in his life prior to filming. Nor did he understand the dynamics of the game. According to an interview with Ipswich player John Walk, the American wanted his character to score the winning goal at the end of the film − despite him being the goalkeeper.
"I suppose he was the big star given his recent success with 'Rocky' at the time," Lindsted said. "He'd show up on set with three to four bodyguards and kept his distance most of the time. He even had a separate table where he ate with his entourage during lunch. If we ever ventured too close, we'd be asked to quickly move on. But then he was the star. Everything revolved around him."
Cigars, but no footballer
Caine could not play football either and spent most of the day smoking cigars between scenes.
"He was incredibly cool about everything," Lindsted said. "If Caine wasn't on camera, he'd sit around smoking his cigars or enjoy a bit of banter with the boys. But he couldn't kick a ball to save his life. Not that it bothered him. He'd just watch from the sidelines, come on the pitch, say his lines, and then happily walk back to his cigar afterwards."
Stallone was not as laid back. "He would always be very focused and intense on set," Lindsted said. "I remember how Stallone sat down with us once and told us a lengthy story about his experiences with a bunch of American wrestlers, whom he had befriended or something. Anyway, he played out the story like it was definitely nothing a sissy could handle. He went on about that for several hours."
Close, but no actor
Despite the presence of Hollywood's finest, they were not the only ones in the limelight as the participating footballers were also given lines to stake their claim in the film.
"I got three words to say," Lindsted said. "Not only did I get to shout 'Yes!', but there's also a scene in which I say 'Five seconds' while eating a meal, which took an hour to get right!"
Lindsted was actually supposed to have more lines, but a short meeting with the casting director upon arrival quickly dashed any dreams Lindsted might have had of being an actor.
"You can imagine it didn't go down very well," he said with a smile. "But that's okay. I never wanted to be an actor anyway. It was just a great experience all round."
An experience to savour
It may be 32 years ago since 'Escape to Victory' was first released, but Lindsted seemed to remember every last detail of his experience.
"It's not a great film, to be honest with you," he admitted. "It's not a groundbreaking story, and it was definitely the big names that made it popular. But I tell you, it was great fun."