General
You'll be bowled over by this community-based approach to cooking
---
This article is more than 7 years old.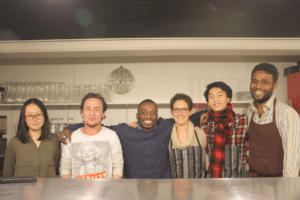 One Bowl
Drejervej 13, Cph NV; open Wednesdays 18:00-21:00; 5279 4387; onebowl.dk
Urban living can be a bit of a lonely existence. Getting to know the people around you can help to soften the cold reality of life in a city centre. One Bowl is a community-based restaurant that aims to do just that by bringing locals together over a home-cooked style meal. If you are new to Copenhagen, it should definitely be on your to-do list.
Inspired by Indian roots
The not-for-profit outfit was founded two years ago by Allwin Jebahar who established the organisation along with the help of some dedicated volunteers. Every Wednesday, Jebahar – who doubles up as the kitchen's cook – comes up with a different menu inspired by his own culinary Indian roots, so expect a lot of savoury spices and vegetarian dishes.
The menu of the night consisted of: maple-glazed carrots, noodle salad and masoor dal topped with a zingy orange tahini sauce. The superb dinner was accompanied by some warm bread and every mouthful was tantalising!
Bonding through food
Jebahar, having been inspired by the Australian not-for-profit 'Lentil as Anything', decided to open One Bowl as a place for friends and neighbours to get together over a warm dinner.
"My wife and I thought it was a great idea to start something similar – to create a social circle for those people who might not be involved in too many activities and find it a challenge to meet people in the city", explained Jebahar.
But One Bowl is not simply just a means to a meal, it's an experience through which people can break out of their one-man pod, leave their phones on the table and chat to those they might normally pass by on the street. Through his study of sustainable management, Jebahar's curiosity drove him to examine how societies can be social through sustainable means. One Bowl seemed like the perfect way to put his study into action "to build a good community and to create a good society".
"People can take care of each other and get to know each other beyond their social level, country or race," Jebahar enthused. "Food has always brought people together."
One Bowl is based on this all-together-now principle. "People in the olden days sat together and ate from one bowl. It was a very common thing in the past, just to signify the inclusiveness of being part of a family," he explained.
Pay what it's worth
To really cement the community spirit of the place, everyone is welcome whether they can pay for their meal or not. There are no fixed prices, but a 40kr donation is suggested. Diners can always contribute more or less, dependent on their budget.
The central focus is to have a good time, mingle with your neighbours and fill up on warm healthy food.
"It is an ideal place for us international students to be part of the community and meet new people who have another view of the world", said Quang from Vietnam, who's one of the regular volunteers. He studies psychology so be careful, as he might want to read your personality through your handwriting!
"I really liked the vision and the concept of the organisation so I signed up one year ago. I just cooked for myself but now I've learned to cook for over 40 people", added Emilie from France.
"It's a nice place to socialise and it's interesting to meet a whole lot of different people," chipped in Chloe, who is originally from Canada and just 16, the youngest of the volunteers.
Made with love
Jebahar's admirable initiative is so genuine that you really feel that you are eating food that has been made with love and care. It's that very same heart-warming feeling you get from munching down your own granny's cooking.
Soon there may be an opportunity to share a meal every day, as One Bowl has big future plans to expand operations through Monday to Friday.