Sport
Running down new contacts with Randstad
---
This article is more than 7 years old.
Recruitment agency behind new sporty networking concept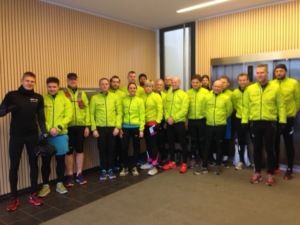 If you've encountered a decent number of yellow jackets around Copenhagen and Frederiksberg recently, you might have found yourself wondering what the deal is.
Don't worry, they're not some lost, drunken Swedish football team aimlessly drifting around the streets of the capital. They are part of a new running network set up by the recruitment agency Randstad.
According to Kim Meurs-Gerken, a lawyer at the company Koch Kristensen and a participants in the network, it all started on March 1 when one of the best Danish triathletes of all time, Thorbjørn Sindballe, gave an inspirational lecture on performance and energy management in everyday life.
"I think it was an incredibly interesting and inspiring lecture. The personal merits of Thorbjørn Sindballe are impressive and he managed to put the topic into context so that everyone could relate it to their everyday lives – both in terms of work and exercise," said Meurs-Gerken.
READ MORE: Young innovators court business entrepreneurs at speed matching event
Running up a storm
Just a week after Sindballe's speech, the team was ready to hit the road for its first session – interval training was on the program. The first day of training was a great success, although it also yielded a few sore legs as well.
The network, established in collaboration with fitness company Powerman, now boasts over 25 active participants who all participate three mandatory days a week, when either a running or a cycling session is planned with the elite runner Kasper Hartlev.
The culmination that the network is building towards is a duathlon on May 8, where all participants have to complete a self-chosen distance of running/cycling/running. Participants can choose the distances 5 km/20 km/5 km or 10km /60 km/10 km.
"When the idea was born in Randstad for this network project, we were all a little bit sceptical about the timing for such a set-up," said Bettina Bencke Kure, the head of sales with Randstad.
"But the project has been incredibly well received. The idea was to combine training and networking. Most people experience a busy life in which we must focus on our careers and family time but also want to exercise a little – partly because health also provides a mental energy and energy for other things."