General
TV This Week: Why you should give a Donald
---
This article is more than 7 years old.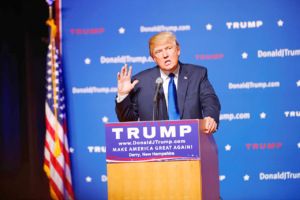 Pick of the Week:
President Trump – Can he really win?
DR2, mon 20:00
Twelve months ago, most pundits would have laughed at the prospect of Donald Trump as the face of the Republican Party. Yet that is the reality and this documentary explores the reasons behind his political rise.
Veteran journalist Matt Frei follows Trump as he hits the campaign trail, experiencing the effect of the world's most quotable man first-hand, as he outlines his vision for America.
The race for the nomination has disregarded long-established norms and Frei is good at explaining the trends and how Trump bucks them – for example his early love-affair with the evangelical Christian vote, despite being married multiple times.
Those with an interest in US politics will find themselves shouting at the screen throughout this succinct documentary, or maybe cheering. After all, 'The Don' keeps moving on. (AJ)
---
Also New:
Joanna Lumley has undergone a metamorphosis in recent years – transforming from sitcom star (Absolutely Fabulous) into the David Attenborough of the genial travelogue. And her latest in a long line of easy-going adventures is Joanna Lumley's Trans-Siberian Adventure (DRK, Sat 21:40).
This three-part journey begins on Saturday evening, so try and stay awake as Joanna explores "romantic Mongolia". Yes, that is a phrase used on the show. Suffice it to say, hard-hitting doc veterans such as Ross Kemp and Louis Theroux won't be quaking in their boots.
Jay Leno has returned to television in his new show Jay Leno's Garage (3+ Mon 21:00). The talk-show giant turned motor-expert now explores the world of cars most of us will never own. And everything from super cars to restored classics are featured. If you can't afford it, Leno will talk about it.
Elsewhere, Albert Finney dons Sir Winston's hat for the TV drama The Gathering Storm (DRK Fri 21:00), but would he have been so jolly had he known Brendan Gleeson would be so good in the sequel?; MLK: The Assassination Tapes (DRK Sun 17:40) provides a unique take on a tumultuous moment in history; and unlike their last album, you will not be forced to listen to U2: Live in Paris (DR3 Fri 23:00). (AJ)
---
Coming Soon:
The Path
Scoring a healthy 70 on Metacritic, this drama series about a religious sect stars Aaron Paul, good old Jesse Pinkman from Breaking Bad, who's been rather quiet since that breakout role.
Available to view on HBO Nordic, the series intelligently address issues of faith.
All the ingredients are here for a classic: the extended family (The Sopranos), flawed characters that we will grow to care about (Breaking Bad), and "deft writing and exquisite" (Hollywood Reporter) from a cast that also includes Michelle Monaghan (Woody's wife in True Detective) and Hugh Dancy (Hannibal). (AP)
---
Sport of the Week:
Sorry La Liga, but the EPL (TV3, from Sun 14:25) keeps on delivering, this time with the top two in action. Elsewhere, we don't know which UCL games (3+, Tue & Wed) are going to be shown, West Ham host Man Utd in the FA Cup (K6, Wed 19:55), Anthony Joshua takes on Charles Martin for the IBF World Heavyweight crown (TV3 Sport 2, Sat 20:45), and we've got the final round of The US Masters (SVT2, Sun 22:00). (BH)
---
Film of the Week:
Cut the final 25 minutes and replace Jamie Foxx with Will Smith, the actor Quentin Tarantino wrote the lead role for, and Django Unchained ( TV3, Sun 21:00) would have been up there with Reservoir Dogs and Pulp Fiction. Elsewhere, don't confuse Zulu (DR 2, Fri 20:00) with the 1964 classic, as it's a thriller set in Cape Town starring a surprisingly good Orlando Bloom. (BH)