News
At least 135 Danes have left the country for Syria and Iraq
---
This article is more than 7 years old.
National security agency PET increases its estimate of how many Danes have left to join terrorist groups in battle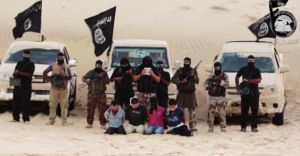 Danish national security agency PET estimates that at least 135 people have left Denmark for Syria and Iraq to join militant Islamist groups – predominantly Islamic State (IS).
The information was included in the notes on a new bill forbidding entry into Syria, which the Justice Ministry sent for consultation last week.
Returnees could pose a threat
PET had previously estimated that about 125 people had travelled to Syria or Iraq to participate in armed conflicts.
According to the intelligence service about half of those who left have returned to Denmark.
PET and many politicians believe that those who returned from the conflict zone in Syria and Iraq could pose a terrorist threat against Denmark because of the experience and skills they may have learned, and because they may have been radicalised.
READ MORE: Danish women taking their children along to join Islamic State
At least 28 Danes or non-resident aliens are believed to have died in the armed conflicts in either Syria or Iraq.