News
Danish parliament wants more environmental controls in the wake of harbour fire
---
This article is more than 7 years old.
Fire and subsequent 'environmental disaster' has politicians wanting more oversight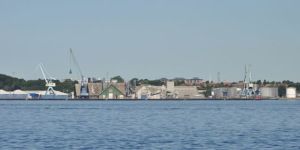 There should be more public scrutiny of the companies that could potentially cause pollution.
So says a majority in Parliament following a February incident in Fredericia in which 12,000 tonnes of fertilizer and 2,266 tonnes of oil drained into the Lillebæl  in just 30 minutes following the collapse of several containers.
The huge silo explosion and fire has been deemed an environmental disaster – one of the worst in recent Danish history.
Today, companies that import large quantities of hazardous materials into Denmark are only checked every three years, and that is far too infrequently according to the conservation society Danmarks Naturfredningsforening (DNF).
Overfull
Police said that Dan Gødning, the company responsible for the fertiliser leak, had 25 percent more fertiliser in its tanks than the company's environmental permit allowed.
"Environmental rules are not being respected," DNF senior adviser Lisbet Ogstrup told Metroxpress. "In general, monitoring and emergency responses must be dramatically improved."
READ MORE: Fredericia fire was an environmental disaster
According to Ogstrup, the disaster in February spilled as much fertiliser into the waters around Fredericia as would normally be seen in an entire year.
"There is a risk of severe oxygen depletion in an area that is already hard hit by pollutants," she said.
New rules needed
A parliamentary majority wants stricter rules and an explanation from the environmental minister.
"It is a very serious matter when there's so much nitrogen," said Socialdemokraterne spokesperson Simon Kollerup "We will ask the minister to explain what steps the government will take."
"Evidence suggests that the current controls are not good enough," said DF's Pia Adelsten, while Enhedslisten's Maria Gjerding called it "a very serious matter for the environment and an opportunity to tighten the rules".
No explanation forthcoming
The police said that they expect their investigation into the February disaster to be finished "on the other side of the summer holidays".
Dan Gødning has said in communications with the environmental protection agency that the actual volumes of its tanks are "secret", although they offered no explanation as to why, and have not responded to questions as to whether they had more fertiliser in their tanks than permitted.