News
Two Danish aid organisation members killed in South Sudan
---
This article is more than 7 years old.
Local workers were clearning mines for the Danish Refugee Council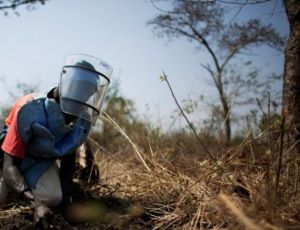 Two employees from the Danish aid organisation Danish Refugee Council have been shot and killed by unknown gunmen in South Sudan.
The two aid workers were locals and part of the organisation's mine and bomb clearing division, Danish Demining Group (DDG), operating in the Yei region of the embattled country.
"It is with great sadness that we received the news this morning about the tragic deaths of two staff members in South Sudan," said Tammy Hall, the head of DDG.
"Our thoughts are with the family members and colleagues in South Sudan. On behalf of the Danish Refugee Council and the Danish Demining Group, I would like to express my deepest sympathy to the families of our fallen colleagues, and to the entire South Sudan team."
READ MORE: Denmark unveils new South Sudan strategy
Danish presence
The DDG workers were part of a team of seven who were travelling from their base in Yei to their work location when the vehicle they were driving was ambushed. The remaining five employees escaped unharmed.
The Danish Refugee Council has been operating in the area that is now South Sudan since 2005. DDG followed suit in 2006.
South Sudan gained its independence in 2011, but the young nation descended into civil war two years later, after president Salva Kiir accused his former deputy Riek Machar of planning a coup. Tens of thousands of people have been killed since then and around a million have been forced to flee their homes.
Earlier this year, the Danish foreign minister, Kristian Jensen, unveiled a new strategy for Denmark's continued engagement in South Sudan looking ahead to 2018.