News
Chaos on Mount Everest halts Danish expedition
---
This article is more than 7 years old.
Climbers flocking to north side of mountain a risk to great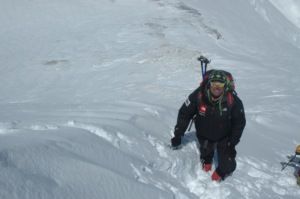 The Danish mountaineer Ivan Braun has been forced to postpone his Everest expedition until the autumn season due to chaotic conditions on the mountain.
The number of climbers looking to ascend the mountain's notorious north side is far greater that earlier seasons and Braun has decided that the risk of an accident is too high to make an attempt this spring.
"I'm not the type to leave another human alone and in need of aid just to reach the top of the mountain. I couldn't live with that," said Braun.
"So I've decided to shift my plans to the autumn, when Everest is empty. The few people who have tried to summit the mountain in autumn are all like me and have purposely picked that time. Rather a fight against majestic Everest, where the mountain and the weather are the primary challenges, than risk chaos due to the many other climbers with different backgrounds and goals."
READ MORE: Danes lending a hand after Nepalese earthquake
Avalanches and personal agendas
The chaotic situation on the north side of Everest is down to the increased avalanche risk on the south side. Some 19 people died in an avalanche on the south side in 2014, and another 25 died in an earthquake-triggered avalanche last year.
The problem is, however, that the northern side is a more technical climb and some of the climbers who have moved from the south side may not possess the necessary skills to ascend safely.
Furthermore, the rescue possibilities on the southern side, which is in Nepal, are far better than in the northern side, which is in Tibet – a no-fly zone which lacks a helicopter.
Therefore, all rescue operations on the north side hinge on fellow climbers setting aside their personal ascension goals to help climbers in need. Braun contended that these issues meant that the risk of an accident was simply too severe.