News
Danish tennis starlet shining bright in the US
---
This article is more than 7 years old.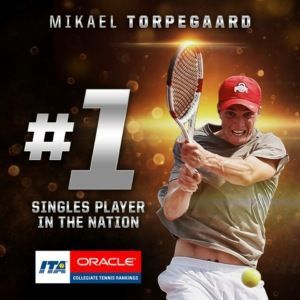 Denmark isn't exactly swimming in top tennis talent these days, but Mikael Torpegaard, a young Dane playing for Ohio State University on the US college circuit, certainly qualifies.
The 21-year-old sophomore has been in scintillating form this year and advanced to the number one spot on the Oracle/ITA college singles rankings this week.
"The Denmark native has been dominant this spring. He has yet to be beaten in 27 matches in 2016 and has dropped just four sets. Torpegaard has a singles record of 24-2 overall and is 18-0 at the number 1 and 2 spots," Ohio State University wrote.
"This fall, Torpegaard won the consolation bracket of the ITA All-American Championship without losing a set and advanced to the round of 16 at the National Indoor Singles Championships."
READ MORE: Young Danish tennis starlet eyeing professional life
Top ranked Danes
Torpegaard has helped the Buckeyes to a 25-2 record and to the cusp of winning their 11th-straight Big Ten regular season title.
Torpegaard, who also took part in Denmark's Davis Cup defeat to Spain last year – he lost in straight sets to Rafal Nadal – hails from Virum.
Torpegaard isn't the first Danish success story coming out of the US. Last year, Søren Hess-Olesen was ranked number one in the national singles rankings on the US college circuit while playing for the University of Texas.
He later turned professional, but has been hampered by injury so far in his pro career and is currently ranked 982 on the ATP World Tour rankings.