News
Denmark commends US officer for delivering terror info
---
This article is more than 7 years old.
Intel most probably thwarted attack on Danish schools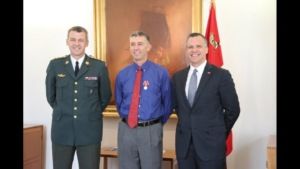 Denmark has honoured US Army captain Bradley Grimm with a 'Danish Defence Medal for Special Meritorious Effort' for his role in the arrest of a 15-year-old girl in Denmark on charge of possessing explosives and supporting terrorism in January.
According to the US Department of Defense, the information provided by Grimm, assigned to Combined Joint Task Force Operation Inherent Resolve in Iraq, most probably thwarted a prospective attack against an unnamed school in Denmark.
"Grimm provided actionable intelligence about a bomb threat against a school in Denmark," said Steve Warren, the US spokesperson for the international coalition against IS.
"The information he provided helped to foil the plot and resulted in an arrest and the confiscation of explosives. Brad's work probably saved the lives of Danish citizens."
READ MORE: Danish teenager reportedly arrested for possession of explosives and supporting terrorism
Attack thwarted
The young girl arrested, who has since turned 16, has been charged with acquiring chemicals and attempting to produce explosives for attacks on Carolineskolen school in Copenhagen and Sydskolen school in Fårevejle.
A 24-year-old ex-Syria fighter has been charged with assisting her.
Grimm was presented with the medal in Copenhagen by Peter Bartram, the head of the Danish Defence. The US ambassador to Denmark, Rufus Gifford, was also present.