News
Tivoli's latest attraction finally ready to open
---
This article is more than 7 years old.
Supplier says the Fatamorgana is safe to ride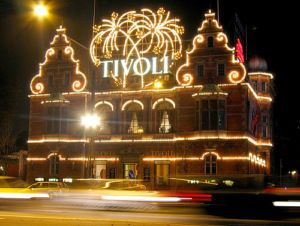 After delaying the opening last week, Tivoli has announced that its new 3-in-1 ride, Fatamorgana, is ready for the public to enjoy. The ride will open tomorrow, Tuesday May 3.
Fatamorgana features a 45-metre tower and combines three rides in one.
There is a mini-version of bumper cars on the ground level. On the next level, guests are seated in a ring with their back towards the centre and slung around while being propelled at up to 2.5 Gs as the floorless ride rotates around the tower.
There is also a more moderate version of the air ride, which spins more slowly and allows guests to enjoy the scenery.
Press guinea pigs
The press will be testing the 50 million kroner ride tomorrow at an opening ceremony scheduled for 12:45 pm.
Should the reporters survive, the ride will be opened for guests at around 2:30.